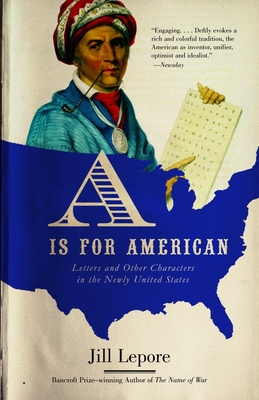 A is for American: Letters and Other Characters in the Newly United States (Paperback)
Letters and Other Characters in the Newly United States
Vintage Books USA, 9780375704086, 256pp.
Publication Date: February 4, 2003
Description
What ties Americans to one another? What unifies a nation of citizens with different racial, religious and ethnic backgrounds? These were the dilemmas faced by Americans in the eighteenth and nineteenth centuries as they sought ways to bind the newly United States together.
In A is for American, award-winning historian Jill Lepore portrays seven men who turned to language to help shape a new nation's character and boundaries. From Noah Webster's attempts to standardize American spelling, to Alexander Graham Bell's use of Visible Speech to help teach the deaf to talk, to Sequoyah's development of a Cherokee syllabary as a means of preserving his people's independence, these stories form a compelling portrait of a developing nation's struggles. Lepore brilliantly explores the personalities, work, and influence of these figures, seven men driven by radically different aims and temperaments. Through these superbly told stories, she chronicles the challenges faced by a young country trying to unify its diverse people.
About the Author
Jill Lepore is an associate professor of history at Boston University. She is the author of The Name of War: King Philip s War and the Origins of American Identity, which won the Bancroft Prize, Phi Beta Kappa s Ralph Waldo Emerson Award, the Berkshire Conference of Women Historians Book Prize, and the New England Historical Association s Book Award. She is cofounder and coeditor of the Web magazine Common-place (www.common-place.org), and lives in Cambridge, Massachusetts."
Praise For A is for American: Letters and Other Characters in the Newly United States…
"Engaging. . . . Deftly evokes a rich and colorful tradition, the American as inventor, unifier, optimist and idealist." –Newsday

"Remarkable. . . . I read it at one sitting, mesmerized by the scholarship, the erudition and the elegant simplicity of this story of seven consummately noble American lives, each one of them, as Jill Lepore reveals, a pilgrimage in the grand search for a nation-creating linguistic ideal." –Simon Winchester, author of The Professor and the Madman

"Wonderfully engrossing." –Boston Globe

"Lepore is a terrific storyteller, alert to trenchant details but also able to convey the connections between events, the sweep of an epoch." –The New York Times Book Review

"This is a book to ponder and re-leaf and return to." –Times Literary Supplement

"A great read." –Chicago Tribune

"Eloquent. . . Smart and suggestive. . . Readers will enjoy an intriguing journey filled with many small gems of understanding." –The New Republic

"Insightful and engaging. . . . Lepore's handling of [these men's] distinctive careers gives them the place they deserve in the national consciousness."–St. Louis Post-Dispatch

"Lepore's fresh work is suggestive of new ways of imagining what unites and divides us, what binds us to this earth."–Raleigh News & Observer

"Entertaining. . . a charming book about the quirky origins of some influential early American inventions."–The Washington Times

"Lepore has . . . produced a work of cultural history that is both diverting and informative." –Book
Advertisement