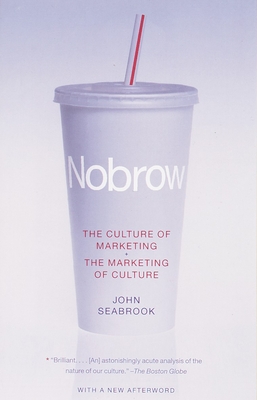 Nobrow (Paperback)
The Culture of Marketing + The Marketing of Culture
Vintage, 9780375704512, 240pp.
Publication Date: February 6, 2001
* Individual store prices may vary.
Description
From John Seabrook, one of our most incisive and amusing cultural critics, comes Nobrow, a fascinatingly original look at the radical convergence of marketing and culture.

In the old days, highbrow was elite and unique and lowbrow was commercial and mass-produced. Those distinctions have been eradicated by a new cultural landscape where "good" means popular, where artists show their work at K-Mart, Titantic becomes a bestselling classical album, and Roseanne Barr guest edits The New Yorker: in short, a culture of Nobrow. Combining social commentary, memoir, and profiles of the potentates and purveyors of pop culture–entertainment mogul David Geffen, MTV President Judy McGrath, Snoop Doggy Dogg, Nobrow high-priest George Lucas, and others–Seabrook offers an enthralling look at our breakneck society where culture is ruled by the unpredictable Buzz and where even aesthetic worth is measured by units shipped.
About the Author
John Seabrook's articles appear regularly in The New Yorker. He has also written for Vanity Fair, Harper's Magazine, and The Nation and is the author of Deeper: My Two-Year Odyssey in Cyberspace. He lives in New York City.
Praise For Nobrow: The Culture of Marketing + The Marketing of Culture…
"[Seabrook's] thesis–and catchy name for it–is almost irresistible as a way of describing the effect marketing is having on culture."–Time