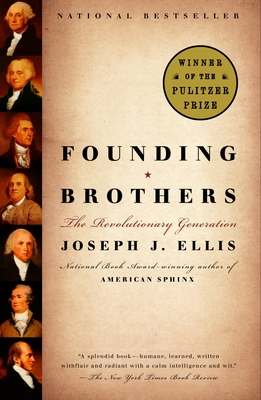 Founding Brothers
The Revolutionary Generation
Paperback

* Individual store prices may vary.
Other Editions of This Title:
Digital Audiobook (7/4/2016)
Hardcover (10/17/2000)
Prebound (2/5/2002)
Description
PULITZER PRIZE WINNER • NATIONAL BESTSELLER • A landmark work of history explores how a group of greatly gifted but deeply flawed individuals—Hamilton, Burr, Jefferson, Franklin, Washington, Adams, and Madison—confronted the overwhelming challenges before them to set the course for our nation.

"A splendid book—humane, learned, written with flair and radiant with a calm intelligence and wit." —The New York Times Book Review

The United States was more a fragile hope than a reality in 1790. During the decade that followed, the Founding Fathers—re-examined here as Founding Brothers—combined the ideals of the Declaration of Independence with the content of the Constitution to create the practical workings of our government. Through an analysis of six fascinating episodes—Hamilton and Burr's deadly duel, Washington's precedent-setting Farewell Address, Adams' administration and political partnership with his wife, the debate about where to place the capital, Franklin's attempt to force Congress to confront the issue of slavery and Madison's attempts to block him, and Jefferson and Adams' famous correspondence—Founding Brothers brings to life the vital issues and personalities from the most important decade in our nation's history.

Praise For Founding Brothers: The Revolutionary Generation…
"Founding Brothers is a wonderful book, one of the best ... on the Founders ever written.... Ellis has established himself as the Founders' historian for our time." —Gordon S. Wood, The New York Review of Books

"Vivid and unforgettable ... [an] enduring achievement." —The Boston Globe

"A splendid book—humane, learned, written with flair and radiant with a calm intelligence and wit." —The New York Times Book Review

"Lively and illuminating ... leaves the reader with a visceral sense of a formative era in American life." —The New York Times

"Masterful.... Fascinating.... Ellis is an elegant stylist.... [He] captures the passion the founders brought to the revolutionary project... [A] very fine book." —Chicago Tribune

"Learned, exceedingly well-written, and perceptive." —The Oregonian

"Lucid.... Ellis has such command of the subject matter that it feels fresh, particularly as he segues from psychological to political, even to physical analysis.... Ellis's storytelling helps us more fully hear the Brothers' voices." —Business Week

"Splendid.... Revealing.... An extraordinary book. Its insightful conclusions rest on extensive research, and its author's writing is vigorous and lucid." —St. Louis Post-Dispatch




Vintage, 9780375705243, 304pp.
Publication Date: February 5, 2002
About the Author
JOSEPH J. ELLIS is the author of many works of American history including Founding Brothers: The Revolutionary Generation, which was awarded the Pulitzer Prize; and American Sphinx: The Character of Thomas Jefferson, which won the National Book Award. He recently retired from his position as the Ford Foundation Professor of History at Mount Holyoke College and lives in Amherst, Massachusetts, with his wife and their youngest son.