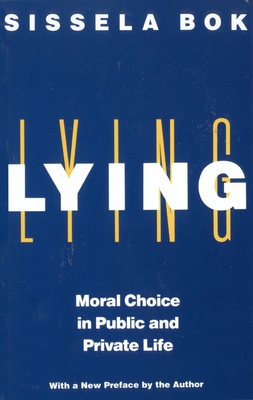 Lying
Moral Choice in Public and Private Life
Paperback

* Individual store prices may vary.
Description
Is it ever all right to lie? A philosopher looks at lying and deception in public and private life—in government, medicine, law, academia, journalism, in the family and between friends.

Lying is a penetrating and thoughtful examination of one of the most pervasive yet little discussed aspects of our public and private lives. Beginning with the moral questions raised about lying since antiquity, Sissela Bok takes up the justifications offered for all kinds of lies—white lies, lies to the sick and dying, lies of parents to children, lies to enemies, lies to protect clients and peers. The consequences of such lies are then explored through a number of concrete situations in which people are involved, either as liars or as the victims of a lie.
Vintage, 9780375705281, 368pp.
Publication Date: September 14, 1999
About the Author
Sissela Bok is a senior visiting fellow at the Harvard Center for Population and Development Studies. Previously, she was a professor of philosophy at Brandeis Univeristy. She is the author of Lying: Moral Choice in Private and Public Life; Secrets: On the Ethics of Concealment and Revelation; A Strategy for Peace: Human Values and the Threat of War; Alva Myrdal: A Daughter's Memoir; Mayhem: Violence as Public Entertainment; Common Values; and Exploring Happiness: From Aristotle to Brain Science. A former member of the Pulitzer Prize Board, Bok is a fellow of the American Academy of Political and Social Science.
or
Not Currently Available for Direct Purchase