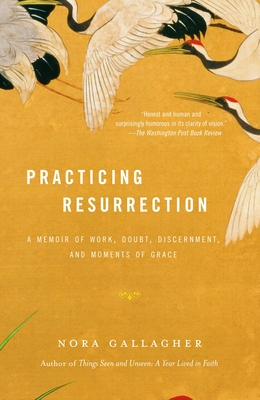 Practicing Resurrection: A Memoir of Work, Doubt, Discernment, and Moments of Grace (Paperback)
A Memoir of Work, Doubt, Discernment, and Moments of Grace
Vintage, 9780375705632, 240pp.
Publication Date: January 6, 2004
Description
In the highly praised memoir Things Seen and Unseen, Nora Gallagher reflected on a year of spiritual renewal and the fact of mortality with uncommon wisdom and grace. We rejoin her in Practicing Resurrection as Gallagher searches for direction in the wake of her brother's death. A desire to reclaim her own -wild life- and a sense of the sacred in the world compels her to assess everything: her marriage, her writing career, and her commitment to parish life. A profound testimony to the urgency of living with meaning, to the natural world's solace and sacredness and a beautiful and often harrowing account of the search for vocation. Gallagher bears witness to the way death yields new life.
About the Author
Nora Gallagher's best-selling memoir, Things Seen and Unseen: A Year Lived in Faith, received outstanding reviews. Her essays, book reviews, and journalism have appeared in many publications, including the New York Times Magazine, theWashington Post, DoubleTake, Time, the Los Angeles Times Magazine, The Village Voice, and Mother Jones. She is also the editor of the award-winning Patagonia: Notes from the Field, a collection of literary essays on the outdoors. She and her husband live in Santa Barbara, California.
Praise For Practicing Resurrection: A Memoir of Work, Doubt, Discernment, and Moments of Grace…
"Honest and human and surprisingly humorous in its clarity of vision." —The Washington Post Book Review

"Gallagher is a thoughtful and talented writer who succeeds in making questions of belief, politics and tradition part of a wholly personal story that will engage open-minded readers of all faiths."—The San Francisco Chronicle

"Nora Gallagher is able to bring words to the ineffable, and to make audible the language of prayer, especially the prayer that emanates from everyday life--from marriage and friendship, from work and family. A gorgeous, deeply honest, wise book." —Sue Halpern, author of Four Wings and a Prayer

"With a poet's ear for language and a novelist's eye for essential detail, Gallagher offers a compelling story of her journey." —Publishers Weekly

Advertisement