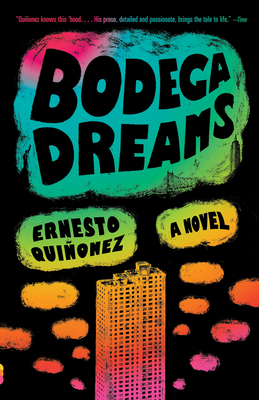 Bodega Dreams (Paperback)
Vintage, 9780375705892, 224pp.
Publication Date: March 14, 2000
* Individual store prices may vary.
Description
In a stunning narrative combining the gritty rhythms of Junot Diaz with the noir genius of Walter Mosley, Bodega Dreams pulls us into Spanish Harlem, where the word is out: Willie Bodega is king.  Need college tuition for your daughter?  Start-up funds for your fruit stand?  Bodega can help.  He gives everyone a leg up, in exchange only for loyalty—and a steady income from the drugs he pushes.

Lyrical, inspired, and darkly funny, this powerful debut novel brilliantly evokes the trial of Chino, a smart, promising young man to whom Bodega turns for a favor.  Chino is drawn to Bodega's street-smart idealism, but soon finds himself over his head, navigating an underworld of switchblade tempers, turncoat morality, and murder.
About the Author
Ernesto Quiñonez is the author of two novels, Chango's Fire and Bodega Dreams. He is on the faculty at Cornell University.
Praise For Bodega Dreams…
"Bodega is a fascinating character. . . . The story [Quiñonez] tells has energy and verve." —The New York Times Book Review

"Rich with eye-opening detail, [this is] a lively and entertaining work by a young writer whose talents are deserving of a wide readership."  —Oscar Hijuelos, author of The Mambo Kings Play Songs of Love

"A new and authentic voice of the urban Latino experience." —Esmeralda Santiago, author of When I Was Puerto Rican

"[Quiñonez's] ideas for using fiction to galvanize the city into confronting poverty are invigorating. . . . Blend[s] street-smart dialogue, culturally relevant prose, and progressive politics into a noir thriller with literary merit." —Time Out New York