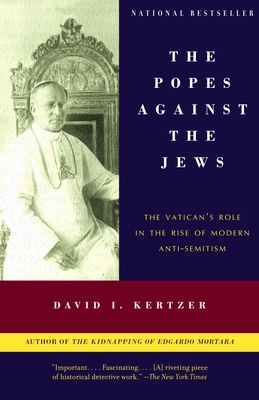 The Popes Against the Jews: The Vatican's Role in the Rise of Modern Anti-Semitism (Paperback)
The Vatican's Role in the Rise of Modern Anti-Semitism
Vintage Books USA, 9780375706059, 355pp.
Publication Date: September 24, 2002
Description
In this meticulously researched, unflinching, and reasoned study, National Book Award finalist David I. Kertzer presents shocking revelations about the role played by the Vatican in the development of modern anti-Semitism. Working in long-sealed Vatican archives, Kertzer unearths startling evidence to undermine the Church's argument that it played no direct role in the spread of modern anti-Semitism. In doing so, he challenges the Vatican's recent official statement on the subject, We Remember. Kertzer tells an unsettling story that has stirred up controversy around the world and sheds a much-needed light on the past.
About the Author
David I. Kertzer was born in 1948 in New York City. He is Paul Dupee, Jr. University Professor of Social Science and a professor of anthropology and Italian studies at Brown University. He is the author of The Kidnapping of Edgardo Mortara, which was a finalist for the National Book Award. The Popes Against the Jews was a finalist for the Mark Lynton History Prize and he has twice been awarded, in 1985 and 1990, the Marraro Prize from the Society for Italian Historical Studies for the best wrok on Italian history. He and his wife, Susan, live in Providence.
Praise For The Popes Against the Jews: The Vatican's Role in the Rise of Modern Anti-Semitism…
"Important. . . . Fascinating. . . . [A] riveting piece of historical detective work." --The New York Times

"Scrupulous....Significant and compelling." —The Washington Post

"The material is dynamite." --The Times (London)

"Popes Against the Jews . . . demolishes the findings of We Remember." --The Boston Globe

"This reviewer is grateful to Kertzer for having written such a compelling narrative. His thesis is shocking and disturbing. . . . An important book." --The Irish Times

"Riveting." -- Globe & Mail (Toronto)

"Kertzer [has the] extraordinary ability to present the most painful, religiously radioactive material with a coolness that makes his findings . . . devastating. . . . Its superb, meticulous scholarship is a benchmark by which other books on the subject must now be judged." The Forward

"A profoundly well-documented book. . . . It is a work of brilliant narrative quality, an oppressive, unremitting and enraging report on what may be the most lethal period of official and quasi-official Catholic anti-Semitism." --Providence Journal
Advertisement