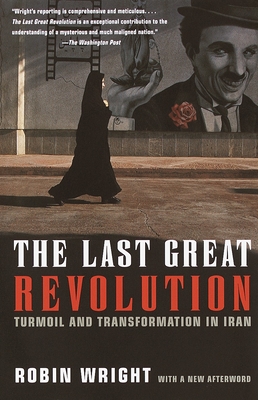 The Last Great Revolution: Turmoil and Transformation in Iran (Paperback)
Turmoil and Transformation in Iran
Vintage Books USA, 9780375706301, 384pp.
Publication Date: February 13, 2001
* Individual store prices may vary.
or
Not Currently Available for Direct Purchase
Description
Robin Wright has reported from over 120 countries for many leading news organizations, but her perceptive coverage of Iran has garnered her the most respect and praise among her colleagues. In The Last Great Revolution, Wright meticulously describes the ongoing transformation of society, politics and religion that ranges from the empowerment of women to the blossoming of a movie industry and an independent press. She demonstrates why Iran's Islamic revolution equals the French and Russian revolutions in new ideas and impact, while standing alone as "the last great revolution" of the modern era.
About the Author
Robin Wright is an American journalist currently covering US foreign policy for the Washington Post. She has reported for the Washington Post, Los Angeles Times, the Sunday Times (London), CBS News and the Christian Science Monitor, and has served as a foreign correspondent in the Middle East, Europe, and Africa. She has also written for The New Yorker, The Atlantic, Foreign Affairs, Foreign Policy, the New York Times, and the International Herald Tribune. Wright received the UN Correspondents Association Gold Medal for coverage of international affairs, the National Magazine Award for reportage from Iran in The New Yorker, and the Overseas Press Club Award for "best reporting in any medium requiring exceptional courage and initiative" for coverage of African wars. For coverage of US foreign policy, she was named journalist of the year by the American Academy of Diplomacy for "distinguished reporting and analysis of international affairs" and won the National Press Club Award and the Weintal Prize for diplomatic reporting. Wright has also been the recipient of a John D. and Catherine T. MacArthur Foundation grant. Wright has been a fellow at the Carnegie Endowment for International Peace, the Brookings Institution, Yale University, Duke University, Stanford University, the University of California, Santa Barbara, and the University of Southern California. She also lectures extensively around the United States and has been a television commentator on ABC, NBC, CBS, CNN, and MSNBC programs, including Meet the Press, Face the Nation, This Week, Nightline, PBS NewsHour, Frontline, and Larry King Live.
Praise For The Last Great Revolution: Turmoil and Transformation in Iran…
?An exceptional contribution to the understanding of a mysterious and maligned nation.??The Washington Post
Advertisement