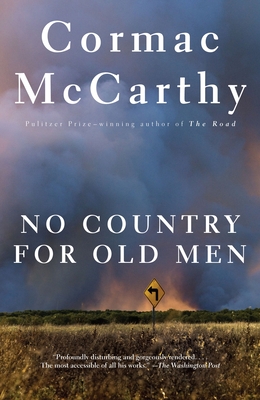 No Country for Old Men (Vintage International) (Paperback)
Vintage, 9780375706677, 320pp.
Publication Date: July 11, 2006
Other Editions of This Title:
Hardcover (7/19/2005)
Paperback (10/9/2007)
Paperback (1/1/2008)
Hardcover, Large Print, Large Print (7/19/2005)
Paperback, French (1/1/2008)
Paperback (8/1/2009)
* Individual store prices may vary.
Description
In his blistering new novel, Cormac McCarthy returns to the Texas-Mexico border, setting of his famed Border Trilogy. The time is our own, when rustlers have given way to drug-runners and small towns have become free-fire zones. One day, a good old boy named Llewellyn Moss finds a pickup truck surrounded by a bodyguard of dead men. A load of heroin and two million dollars in cash are still in the back. When Moss takes the money, he sets off a chain reaction of catastrophic violence that not even the law–in the person of aging, disillusioned Sheriff Bell–can contain.As Moss tries to evade his pursuers–in particular a mysterious mastermind who flips coins for human lives–McCarthy simultaneously strips down the American crime novel and broadens its concerns to encompass themes as ancient as the Bible and as bloodily contemporary as this morning's headlines. No Country for Old Men is a triumph.
About the Author
Cormac McCarthy is the author of eight previous novels, and among his honors are the National Book Award and the National Book Critics Circle Award.
Praise For No Country for Old Men (Vintage International)…
"Profoundly disturbing and gorgeously renderedÉ. The most accessible of all his works." –Washington Post"A narrative that rips along like hell on wheels [in a] race with the devil [on] a stage as big as Texas." –The New York Times Book Review "Expertly staged and pitilessly lightedÉ. It feels like a genuine diagnosis of the postmillennial malady, a scary illumination of the oncoming darkness." –Time"A cause for celebrationÉ. He is nothing less than our greatest living writer, and this is a novel that must be read and remembered." –Houston Chronicle