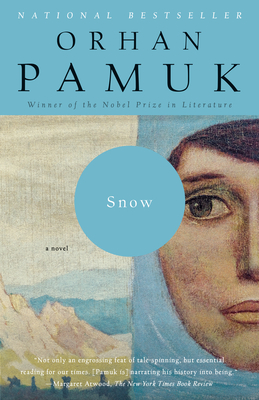 Snow (Vintage International)
Paperback

* Individual store prices may vary.
Other Editions of This Title:
Digital Audiobook (8/14/2013)
Digital Audiobook (2/26/2007)
Compact Disc (2/27/2007)
Hardcover (3/1/2011)
Hardcover (8/17/2004)
Hardcover (10/18/2011)
Description
Dread, yearning, identity, intrigue, the lethal chemistry between secular doubt and Islamic fanaticism–these are the elements that Orhan Pamuk anneals in this masterful, disquieting novel. An exiled poet named Ka returns to Turkey and travels to the forlorn city of Kars. His ostensible purpose is to report on a wave of suicides among religious girls forbidden to wear their head-scarves. But Ka is also drawn by his memories of the radiant Ipek, now recently divorced. Amid blanketing snowfall and universal suspicion, Ka finds himself pursued by figures ranging from Ipek's ex-husband to a charismatic terrorist. A lost gift returns with ecstatic suddenness. A theatrical evening climaxes in a massacre. And finding god may be the prelude to losing everything else. Touching, slyly comic, and humming with cerebral suspense, Snow is of immense relevance to our present moment.
Praise For Snow (Vintage International)…
"Not only an engrossing feat of tale-spinning, but essential reading for our times. [Pamuk is] narrating his country into being." — Margaret Atwood, The New York Times Book Review "A great and almost irresistibly beguiling . . . novelist. . . . [Snow is] enriched by . . . mesmerizing mixes: cruelty and farce, poetry and violence, and a voice whose timbres range from a storyteller's playfulness to the dark torment of an explorer, lost." — The New York Times "A major work . . . conscience-ridden and carefully wrought, tonic in its scope, candor, and humor . . . . with suspense at every dimpled vortex . . . . Pamuk [is Turkey's] most likely candidate for the Nobel Prize." –John Updike, The New Yorker "From the Golden Horn, with a wicked grin, the political novel makes a triumphant return." — Harper's "Powerful . . . Astonishingly timely . . . A deft melding of political intrigue and philosophy, romance and noir . . . [Snow] is forever confounding our expectations."–Vogue"A novel of profound relevance to the present moment. [The] debate between the forces of secularism and those of religious fanaticism . . . is conducted with subtle, painful insight into the human weakness that can underlie both impulses." –The Times (London)"A work of artÉ Alternating between the snowstorm's hush and philosophical conversations reminiscent of Dostoyevsky's great novels, Snow proves a Étimely and gripping read."–Minneapolis Star-Tribune"MarvelousÉ as quiet and transformative as a blizzard and as coldly beautiful."–St. Petersburg Times"In Snow, Pamuk uses his powers to show us the critical dilemmas of modern Turkey. How European a country is it? How can it respond to fundamentalist Islam? And how can an artist deal with these issues? ... The author's high artistry and fierce politics take our minds further into the age's crisis than any commentator could. Orhan Pamuk is the sort of writer for whom the Nobel Prize was invented." –Daily Telegraph"Part political thriller, part farce, Snow is [Pamuk's] most dazzling fiction yet. One of the top books of the year."–Village Voice"It comes as no surprise that political prescience should be yet another of the many gifts of Turkish novelist Orhan Pamuk. With Snow, Pamuk gives convincing proof that the solitary artist is a better bellwether than any televised think-tanker ... The work is a melancholy farce full of rabbit-out-of-a-hat plot twists that, despite the locale, looks uncannily like the magic lantern show of misfire, denial and pratfall that appears daily in our newspapers." –Independent on Sunday"Pure magicÉ Snow is excellent."–San Francisco Chronicle"'How much can we ever know about love and pain in another's heart? How much can we hope to understand those who have suffered deeper anguish, greater deprivation and more crushing disappointments than we ourselves have known?' Such questions haunt the poet Ka . . . [in] this novel, as much about love as it is about politics."–The Observer"Richly detailed . . . A thrilling plot ingeniously shaped . . . Vividly embodies and painstakingly explores the collision of Western values with Islamic fundamentalism . . . An astonishingly complex, disturbing view of a world we owe it to ourselves to better understand."–Kirkus Reviews "Snow has already been a bestseller in Turkey - given Pamuk's stature as a novelist and the novel's content it could hardly fail to be. But what makes it a brilliant novel is its artistry. Pamuk keeps so many balls in the air that you cannot separate the inquiry into the nature of religious belief from the examination of modern Turkey, the investigation of East-West relations, and the nature of art itself ... All this rolled into a gripping political thriller."–Spectator"Brilliant É Pamuk writes with such grace and deep respect for his conflicted characters that this rich novel passes like a dream, encompassing every aspect of love and belief."– People
Vintage, 9780375706868, 480pp.
Publication Date: July 19, 2005
About the Author
Orhan Pamuk's novel My Name Is Red won the 2003 IMPAC Dublin Literary Award. His work has been translated into more than twenty languages. He lives in Istanbul.