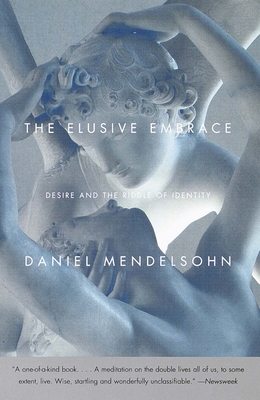 The Elusive Embrace (Paperback)
Desire and the Riddle of Identity
Vintage, 9780375706974, 224pp.
Publication Date: June 20, 2000
* Individual store prices may vary.
Description
Hailed for its searing emotional insights, and for the astonishing originality with which it weaves together personal history, cultural essay, and readings of classical texts by Sophocles, Ovid, Euripides, and Sappho, The Elusive Embrace is a profound exploration of the mysteries of identity.  It is also a meditation in which the author uses his own divided life to investigate the "rich conflictedness of things," the double lives all of us lead.

Daniel Mendelsohn recalls the deceptively quiet suburb where he grew up, torn between his mathematician father's pursuit of scientific truth and the exquisite lies spun by his Orthodox Jewish grandfather; the streets of manhattan's newest "gay ghetto," where "desire for love" competes with "love of desire;" and the quiet moonlit house where a close friend's small son teaches him the meaning of fatherhood.  And, finally, in a neglected Jewish cemetery, the author uncovers a  family secret that reveals the universal need for storytelling, for inventing myths of the self.  The book that Hilton Als calls "equal to Whitman's 'Song of Myself,'" The Elusive Embrace marks a dazzling literary debut.
About the Author
Daniel Mendelsohn's articles, essays, reviews, and translations have appeared in numerous publications, including The New Yorker, The New York Times, The New York Review of Books, New York magazine, Esquire, and The Paris Review. He has been awarded the National Book Critics Circle Award for Excellence in Book Reviewing, the George Jean Nathan Prize for Drama Criticism, and in 2005 he was the recipient of a Guggenheim Foundation Fellowship. In addition to The Elusive Embrace, which in 1999 was named a New York Times Notable Book of the Year and a Los Angeles Times Best Book of the Year, he is the author of a scholarly study of Greek tragedy, Gender and the City in Euripides' Political Plays. Mr. Mendelsohn, who will assume the Charles Ranlett Flint Chair in Humanities at Bard College in the fall of 2006, lives in New York City and in New Jersey.
Praise For The Elusive Embrace: Desire and the Riddle of Identity…
"A one-of-a-kind book-wise, startling, and wonderfully unclassifiable."  -Newsweek

"A literary achievement of the first rank.... The Greeks knew how to give a universal significance to individual experience.  So does Daniel Mendelsohn."  -The New York Observer