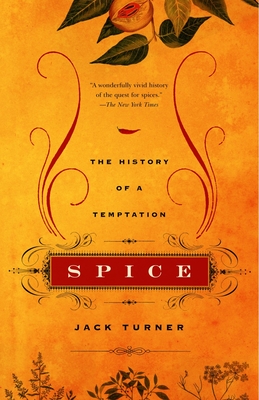 Spice
The History of a Temptation
Paperback

* Individual store prices may vary.
Other Editions of This Title:
Hardcover (8/1/2004)
Description
In this brilliant, engrossing work, Jack Turner explores an era—from ancient times through the Renaissance—when what we now consider common condiments were valued in gold and blood.

Spices made sour medieval wines palatable, camouflaged the smell of corpses, and served as wedding night aphrodisiacs. Indispensible for cooking, medicine, worship, and the arts of love, they were thought to have magical properties and were so valuable that they were often kept under lock and key. For some, spices represented Paradise, for others, the road to perdition, but they were potent symbols of wealth and power, and the wish to possess them drove explorers to circumnavigate the globe—and even to savagery.

Following spices across continents and through literature and mythology, Spice is a beguiling narrative about the surprisingly vast influence spices have had on human desire.

Includes eight pages of color photographs.

One of the Best Books of the Year: Discover Magazine, The Christian Science Monitor, San Francisco Chronicle 
Praise For Spice: The History of a Temptation…
"Spice is an erudite and engaging account of how foodstuffs can change the flow of history." – New York Times Book Review

"Jack Turner handles his subject with discernment and confidence, his style appropriately brisk and animated. . . . Impressive and reassuring is his combination of sympathetic understanding and tough-minded rationalism. Although he never condescends to the past, neither does he ever blur the line that separates fascinating lore from the objective truths of science." – Los Angeles Times


"A nifty grab bag of a book. Entertaining and informative." –San Jose Mercury News


"A hugely enjoyable book, written with erudition, style and wit." –New Scientist


"Spice is deliciously rich in odors, savors, and stories. Jack Turner quickens history with almost bardic magic, pouring his personality into his narrative without sacrifice of scholarship." –Felipe Fernandez-Armesto


"Based on research that is broad and deep, Turner succeeds remarkably well in capturing the evanescent attractions of spice." –Orlando Sentinel


"Stimulating. . . . Spice is stuffed with memorable details. . . .Turner writes with pace and intelligence." –New Statesman


"Jack Turner possesses the two ingredients most essential for the great historian–scholarly detachment allied to a passionate obsession with his subject. He also writes uncommonly well. A splendid book." –Philip Ziegler


"Turner's banquet É is, as he admits, a ramble, but it is a fascinating one — urbane, anecdotal and easily digestible." –Scotsman


"Sumptuous...Turner quotes well and widely from literature, and has a flair for anecdote." –The Guardian

"Turner brings serious scholarship to bear on his subject, quoting from all manner of obscure texts in ancient languages. But his gentle, ironic wit makes him a light-hearted companion. . . . The book shimmers with life, with real people springing from every page, some of them millennia old. . . . Turner's enthusiasm carries it all forward with terrific momentum." –The Tablet

"A fascinating and scholarly book that can help you improve both your cooking and your sex life. An excellent piece of work." –Peter Mayle
Vintage, 9780375707056, 384pp.
Publication Date: August 9, 2005
About the Author
Jack Turner was born in Sydney, Australia, in 1968. He received his B.A. in Classical Studies from Melbourne University and his Ph.D. in International Relations from Oxford, where he was a Rhodes Scholar and MacArthur Foundation Junior Research Fellow. He lives with his wife, Helena, and children in Geneva. Spice: The History of a Temptation is his first book.