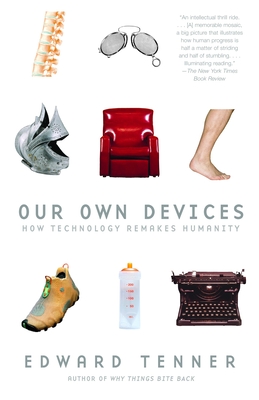 Our Own Devices: How Technology Remakes Humanity (Paperback)
How Technology Remakes Humanity
Vintage, 9780375707070, 336pp.
Publication Date: June 8, 2004
Description
This delightful and instructive history of invention shows why National Public Radio dubbed Tenner "the philosopher of everyday technology." Looking at how our inventions have impacted our world in ways we never intended or imagined, he shows that the things we create have a tendency to bounce back and change us. The reclining chair, originally designed for brief, healthful relaxation, has become the very symbol of obesity. The helmet, invented for military purposes, has made possible new sports like mountain biking and rollerblading. The typewriter, created to make business run more smoothly, has resulted in wide-spread vision problems, which in turn have made people more reliant on another invention--eyeglasses. As he sheds light on the many ways inventions surprise and renew us, Tenner considers where technology will take us in the future, and what we can expect from the devices that we no longer seem able to live without.
About the Author
Edward Tenner has been a visiting scholar in the Departments of Geosciences and English at Princeton University. Recipient of a John Simon Guggenheim Fellowship and a fellow of the Woodrow Wilson International Center for Scholars, he is currently senior research associate at the Jerome and Dorothy Lemelson Center for the Study of Invention and Innovation at the National Museum of American History at the Smithsonian Institution in Washington, D.C. He lives in Plainsboro, New Jersey. From the Hardcover edition.
Praise For Our Own Devices: How Technology Remakes Humanity…
"An intellectual thrill ride. . . . [A] memorable mosaic, a big picture that illustrates how human progress is half a matter of striding and half of stumbling. . . . Illuminating reading." —The New York Times Book Review

"In this stellar fusion of how we design and use technology, and how technology in turn transforms us, the simple shoestring is a . . . path to understanding everything that matters. . . . Tenner brings both scholarly precision and droll humor to his topics."
—ThePhiladelphia Inquirer

"This quirky romp . . . explores how common objects redefine us as fast as we redesign them. . . . Tenner offers many profound insights." —Wired

"Accessible, elegant. . . . Tenner covers a remarkable broad canvas. . . . He has an eye for the odd detail and the little-known fact. . . [and] will take you to some fascinating places." —Boston Review

Advertisement