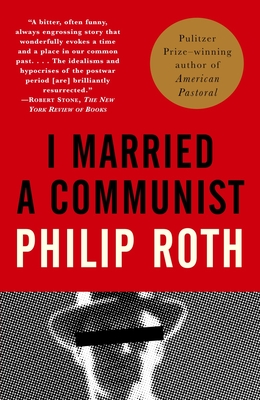 I Married a Communist
American Trilogy (2) (Vintage International)
Paperback

* Individual store prices may vary.
Description
The Pulitzer Prize–winning author of American Pastoral delivers the astonishing story of the rise and fall of an American man whose life is destroyed in the McCarthy witchhunt of the 1950s.

"Gripping.... A masterly, often unnerving, blend of tenderness, harshness, insight and wit." —The New York Times Book Review

I Married a Communist is the story of Ira Ringold, a big American roughneck who begins life as a teenage ditch-digger in 1930s Newark, becomes a big-time 1940s radio star, and is destroyed, as both a performer and a man, in the McCarthy witchhunt.

In his heyday as a star—and as a zealous, bullying supporter of "progressive" political causes—Ira marries Hollywood's beloved silent-film star, Eve Frame. Their glamorous honeymoon in her Manhattan townhouse is short-lived, however, and it is the publication of Eve's scandalous bestselling exposé that identifies him as "an American taking his orders from Moscow."

In this story of cruelty, betrayal, and revenge spilling over into the public arena from their origins in Ira's turbulent personal life, Philip Roth—who Commonweal calls the "master chronicler of the American twentieth century"—has written a brilliant fictional protrayal of that treacherous postwar epoch when the anti-Communist fever not only infected national politics but traumatized the intimate, innermost lives of friends and families, husbands and wives, parents and children.
Praise For I Married a Communist: American Trilogy (2) (Vintage International)…
"A bitter, often funny, always engrossing story that wonderfully evokes a time and place in our common past.... The idealisms and hypocrisies of the postwar period [are] brilliantly resurrected." —Robert Stone, The New York Review of Books

"A remarkable work—remarkable in its stringent observation of American life...remarkable in its wisdom. Mr. Roth has the frantic politics of this frantic time—the McCarthy era—in exact pitch." —Arthur Schlesinger, The New York Observer

"As social history it breathes life. In Ira Ringold, Roth has created one of his singularly ripe, vigorous characters. Ira's dizzying rise and fall out of and back into the working class trace the trajectory of twenty years of American history." —Chicago Tribune

"Philip Roth is an amazing writer.... I Married a Communist may very well become his classic work; perhaps a classic for all time." —The Plain Dealer

"Gripping....  A masterly, often unnerving, blend of tenderness, harshness, insight and wit." —The New York Times Book Review

"I Married a Communist is filled with passages as fine and sharp as anything Roth has ever written (which is to say, as fine and sharp as anything in contemporary American literature)." —The Village Voice Literary Supplement

"I Married a Communist leaves you both dumbfounded and in awe." —Chicago Sun-Times

"[S]eals [Roth's] reputation as a writer at the very top of his game." —The Philadelphia Inquirer
Vintage, 9780375707216, 336pp.
Publication Date: November 2, 1999
About the Author
PHILIP ROTH won the Pulitzer Prize for American Pastoral. In 1998 he received the National Medal of Arts at the White House and in 2002 the highest award of the American Academy of Arts and Letters, the Gold Medal in Fiction. He twice won the National Book Award and the National Book Critics Circle Award. He won the PEN/Faulkner Award three times. In 2005 The Plot Against America received the Society of American Historians' Prize for "the outstanding historical novel on an American theme for 2003–2004." Roth received PEN's two most prestigious awards: in 2006 the PEN/Nabokov Award and in 2007 the PEN/Bellow Award for achievement in American fiction. In 2011 he received the National Humanities Medal at the White House, and was later named the fourth recipient of the Man Booker International Prize. He died in 2018.