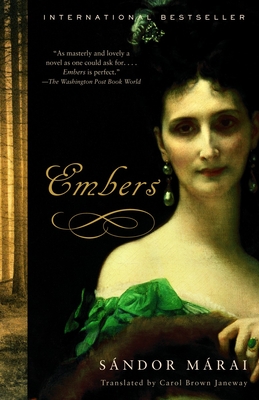 Embers (Vintage International)
Paperback

* Individual store prices may vary.
Other Editions of This Title:
Hardcover (9/25/2001)
Description
Originally published in 1942 and now rediscovered to international acclaim, this taut and exquisitely structured novel by the Hungarian master Sandor Marai conjures the melancholy glamour of a decaying empire and the disillusioned wisdom of its last heirs.

In a secluded woodland castle an old General prepares to receive a rare visitor, a man who was once his closest friend but who he has not seen in forty-one years. Over the ensuing hours host and guest will fight a duel of words and silences, accusations and evasions. They will exhume the memory of their friendship and that of the General's beautiful, long-dead wife. And they will return to the time the three of them last sat together following a hunt in the nearby forest--a hunt in which no game was taken but during which something was lost forever. Embers is a classic of modern European literature, a work whose poignant evocation of the past also seems like a prophetic glimpse into the moral abyss of the present
Praise For Embers (Vintage International)…
"As masterly and lovely a novel as one could ask for. . . . Embers is perfect." --The Washington Post Book World

"A lustrous novel. . . . [with] its powerful undercurrent of suspense and its elegantly wrought armature of moral and metaphysical argument. . . . Triumphant." --The New York Times Book Review

"The reader will . . . be . . . very quietly nailed to the spot . . . mesmerizing. . . . In every way . . . satisfying." --Los Angeles Times

"Tantalizing. . . .Brilliant. . . . [Marai's] words resonate." —The Wall Street Journal
Vintage, 9780375707421, 224pp.
Publication Date: August 13, 2002
About the Author
Sándor Márai was born in Kassa, in the Austro-Hungarian Empire, in 1900, and died in San Diego in 1989. He rose to fame as one of the leading literary novelists in Hungary in the 1930s. Profoundly antifascist, he survived World War II, but persecution by the Communists drove him from the country in 1948, first to Italy, then to the United States. He is the author of a body of work now being rediscovered and which Knopf is translating into English.

A NOTE ABOUT THE TRANSLATOR
Carol Brown Janeway's translations include Binjamin Wilkomirski's Fragments, Marie de Hennezel's Intimate Death, Bernhard Schlink's The Reader, Jan Philipp Reemtsma's In the Cellar, Hans-Ulrich Treichel's Lost, Zvi Kolitz's Yosl Rakover Talks to God, and Benjamin Lebert's Crazy.