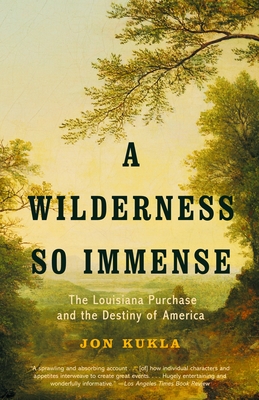 A Wilderness So Immense (Paperback)
The Louisiana Purchase and the Destiny of America
Anchor, 9780375707612, 448pp.
Publication Date: August 10, 2004
Other Editions of This Title:
Hardcover (4/8/2003)
* Individual store prices may vary.
Description
In A Wilderness so Immense, historian Jon Kukla recounts the fascinating tale of the personal maneuverings, political posturing, and international intrigue that culminated in the greatest land deal in history. Spanning nearly two decades, Kukla's book brings to life a pageant of characters from Thomas Jefferson, James Monroe, and John Jay, to Napoleon and Carlos III of Spain and other colorful figures.

Employing letters, memoirs, contemporary documents, and a host of other sources, Kukla creates a complete and compelling account of the Louisiana Purchase. From the hinterlands in Kentucky to the courts of Spain, France, and England to the halls of Congress, he re-creates the forces and personalities that turned a struggle for navigation rights on the Mississippi into an event that doubled the size of the country and altered the destiny of the United States forever.
About the Author
Jon Kukla received his B.A. from Carthage College and his M.A. and Ph.D. from the University of Toronto. He has directed historical research and publishing at the Library of Virginia and has been curator and director of the Historic New Orleans Collection. In 2000 he returned to Virginia as director of the Patrick Henry Memorial Foundation. He lives in Charlotte County, Virginia.
Praise For A Wilderness So Immense: The Louisiana Purchase and the Destiny of America…
"A sprawling and absorbing account . . . [of] how individual characters and appetites interweave to create great events. . . . Hugely entertaining and wonderfully informative."--Los Angeles Times Book Review

"Kukla's vivid fresco . . . is peopled by a cast that includes kings, queens, ministers, adventurers, generals, politicians, presidents." —The New York Times Book Review

"As exciting and readable a narrative of the Louisiana Purchase as we're likely to get in the foreseeable future." —The New Republic

"Kukla writes history that reads with the urgency of a suspense novel. . . . Best of all, his graceful prose sings with the conviction of one telling a great story." --Dallas Morning News

"A sweeping tale . . . . [Kukla's] ability to interweave evocative anecdotes, biography and colorful asides with the complex diplomatic, military and political events that led up to the Louisiana Purchase makes A Wilderness So Immense fresh, stylish and compelling." —Times-Picayune (New Orleans)

"A story of fascinating international intrigue and fallible human beings dealing with issues far beyond their comprehension. It is the best book on the subject yet available." –The Baltimore Sun

"As exciting and readable a narrative of the Louisiana Purchase as we are likely to get in the foreseeable future." –The New Republic

"Enlightening. . . Kukla is good at showing what a ferment of ideas and resultant activities the world was going through at this time." –Minneapolis Star-Tribune

"A thoroughly readable, entertaining, and informative history of the incredible period that led to the purchase of a land that doubled the size of the United States. . . . A wonderful book, not to be missed." –Decatur Daily

"A well-researched study. . . . Packed with fast-moving descriptions of the complicated negotiations. Kukla has a fine sense of context and detail." –Roanoke Times

"A wonderful story, wonderfully told." –W.W. Abbot, Editor Emeritus of The Papers of George Washington