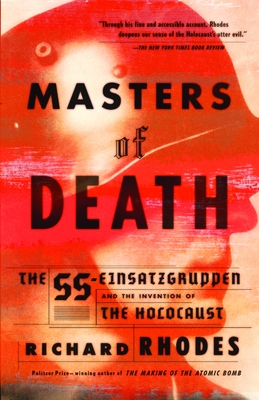 Masters of Death: The SS-Einsatzgruppen and the Invention of the Holocaust (Paperback)
The SS-Einsatzgruppen and the Invention of the Holocaust
Vintage, 9780375708220, 335pp.
Publication Date: August 12, 2003
Description
In Masters of Death, Pulitzer Prize-winning author Rhodes gives full weight, for the first time, to the Einsatzgruppen's role in the Holocaust. These "special task forces," organized by Heinrich Himmler to follow the German army as it advanced into eastern Poland and Russia, were the agents of the first phase of the Final Solution. They murdered more than 1.5 million men, women, and children between 1941 and 1943, often by shooting them into killing pits, as at Babi Yar. These massive crimes have been generally overlooked or underestimated by Holocaust historians, who have focused on the gas chambers. In this painstaking account, Pulitzer Prize-winning author Richard Rhodes profiles the eastern campaign's architects as well as its "ordinary" soldiers and policemen, and helps us understand how such men were conditioned to carry out mass murder. Marshaling a vast array of documents and the testimony of perpetrators and survivors, this book is an essential contribution to our understanding of the Holocaust and World War II.
About the Author
Richard Rhodes is the author or editor of twentytwo books, most recently the author of The Twilight of the Bomb, the last volume in a quartet about nuclear history. The first, The Making of the Atomic Bomb, won the Pulitzer Prize, a National Book Award, and a National Book Critics Circle Award. He has received numerous fellowships for research and writing, including grants from the Ford Foundation, the Guggenheim Foundation, the MacArthur Foundation and the Alfred P. Sloan Foundation. He has been a visiting scholar at Harvard and MIT and a host and correspondent for documentaries on public television's Frontline and American Experience series. An affiliate of the Center for International Security and Cooperation at Stanford University, he lectures frequently to audiences in the United States and abroad.
Praise For Masters of Death: The SS-Einsatzgruppen and the Invention of the Holocaust…
"Through his fine and accessible account, Rhodes deepens our sense of the Holocaust's utter evil." —The New York Times Book Review

"Graphic and sometimes lurid. Yet this is how the story must be told for readers to grasp the depth of the horror. . . . The impact of this story is profound." —The Washington Post Book World

"A vivid account. . . . Should contribute to better understanding of Nazi Germany and its crimes." —Los Angeles Times Book Review

"A pointed reminder that all of us—even the most ordinary—are capable of horrendous acts of violence." —The Denver Post

"This is an important and enormously powerful book." —Elie Wiesel

"Powerful. . . . Not only an important work but a morally necessary one."–Houston Chronicle

"Rhodes breaks searing ground. . . . Without reminders like this, we might never learn."–Atlanta Journal-Constitution

"Graphically and chillingly details the work of the special killing battalions of Himmler's SS. . . Extremely well-written. . . [A] fine work of gruesome history."–Jerusalem Post

"Powerfully concise. . . [Rhodes] continues his authoritative research with a story that is wrenching in human terms."–The Kansas City Star

"Riveting history. . . Unrelenting."–The Weekly Standard

"This latest contribution to the debate about the origins of Nazi behavior–the processes of socialization to butchery–is dreadfully timely."–Newsweek

Advertisement