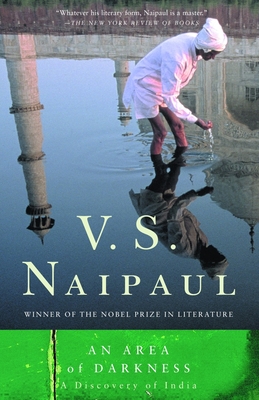 An Area of Darkness (Paperback)
A Discovery of India
Vintage, 9780375708350, 304pp.
Publication Date: July 9, 2002
Description
A classic of modern travel writing, An Area of Darkness is Nobel laureate V. S. Naipaul's profound reckoning with his ancestral homeland and an extraordinarily perceptive chronicle of his first encounter with India.
Traveling from the bureaucratic morass of Bombay to the ethereal beauty of Kashmir, from a sacred ice cave in the Himalayas to an abandoned temple near Madras, Naipaul encounters a dizzying cross-section of humanity: browbeaten government workers and imperious servants, a suavely self-serving holy man and a deluded American religious seeker. An Area of Darkness also abounds with Naipaul's strikingly original responses to India's paralyzing caste system, its apparently serene acceptance of poverty and squalor, and the conflict between its desire for self-determination and its nostalgia for the British raj. The result may be the most elegant and passionate book ever written about the subcontinent.
About the Author
V.S. Naipaul was born in Trinidad in 1932. He went to England on a scholarship in 1950. After four years at Oxford he began to write, and since then he has followed no other profession. He is the author of more than twenty books of fiction and nonfiction and the recipient of numerous honors, including the Nobel Prize in 2001, the Booker Prize in 1971, and a knighthood for services to literature in 1990. He lives in Wiltshire, England.
Praise For An Area of Darkness: A Discovery of India…
"Whatever his literary form, Naipaul is a master." –The New York Review of Books

"This is India. I don't know any other book that comes so near to capturing the whole crazy spectrum. . . . Brilliant." –John Wain, The Observer

"His narrative skill is spectacular. One returns with pleasure to the slow hand-in-hand revelation of both India and himself. . . . There is a kind of displaced person who has a better sense of place than anybody: Mr. Naipaul is an outstanding example." –The Times (London)

"[Naipaul's] penetrating, opinionated travel writing . . . makes up a remarkable running commentary on the clash of civilizations." –The New York Times
Advertisement