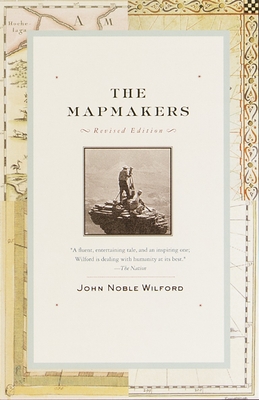 The Mapmakers (Paperback)
Revised Edition
Vintage, 9780375708503, 528pp.
Publication Date: December 4, 2001
* Individual store prices may vary.
Description
In his classic text, two-time Pulitzer Prize-winner John Noble Wilford recounts the history of cartography from antiquity to the space age.

They are among the world's great pioneers and adventurers: the mapmakers who for centuries have been expanding our knowledge of who and where we are, and where we want to go. From the surprisingly accurate silk maps prepared by Chinese cartographers in the second century B.C., to medieval mapmakers who believed they had fixed the location of paradise, through to the expeditions of Columbus and Magellan, John Noble Wilford chronicles the exploits of the great pioneers of mapmaking. Wilford brings the story up to the present day as he shows the impact of new technologies that make it possible for cartographers to go where no one has been before, from the deepest reaches of the universe (where astronomers are mapping time as well as space) to the inside of the human brain. These modern-day mapmakers join the many earlier adventurers—including ancient Greek stargazers, Renaissance seafarers, and the explorers who mapped the American West—whose achievements shape this dramatic story of human inventiveness and limitless curiosity.

About the Author
John Noble Wilford is a science correspondent for The New York Times. He has won two Pulitzer Prizes—one in 1984 for his reporting on space science, and the other in 1987 as a member of the Times team reporting on the aftermath of the Challenger accident. He was the McGraw Lecturer at Princeton University in 1985, and Professor of Science Journalism at the University of Tennessee in 1989-90. In 1998, he was elected to the American Academy of Arts and Sciences. He lives in New York.