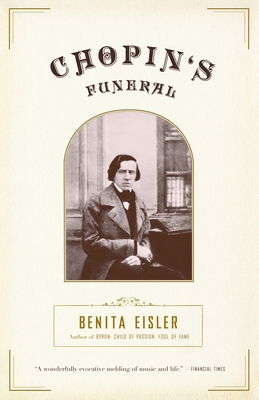 Chopin's Funeral (Paperback)
Vintage, 9780375708688, 240pp.
Publication Date: June 8, 2004
Description
Frederic Chopin's reputation as one of the Great Romantics endures, but as Benita Eisler reveals in her elegant and elegiac biography, the man was more complicated than his iconic image. A classicist, conservative, and dandy who relished his conquest of Parisian society, the Polish emigre was for a while blessed with genius, acclaim, and the love of Europe's most infamous woman writer, George Sand. But by the age of 39, the man whose brilliant compositions had thrilled audiences in the most fashionable salons lay dying of consumption, penniless and abandoned by his lover. In the fall of 1849, his lavish funeral was attended by thousands--but not by George Sand. In this intimate portrait of an embattled man, Eisler tells the story of a turbulent love affair, of pain and loss redeemed by art, and of worlds--both private and public--convulsed by momentous change.
About the Author
Benita Eisler is the author of O'Keeffe and Stieglitz: An American Romance and Byron: Child of Passion, Fool of Fame. She lives in New York City.
Praise For Chopin's Funeral…
"A wonderfully evocative melding of music and life." —Financial Times

"[Written] with poetic insight and admirable brevity, combining analytical skill with that of a novelist." —New York Times Book Review

"A captivating narrative. . . . [Eisler] manages to infuse cultural history with heartbreak." —New York Sun

"Psychologically compelling. . . . Eisler writes beautifully about Chopin's music." --The Christian Science Monitor

Advertisement