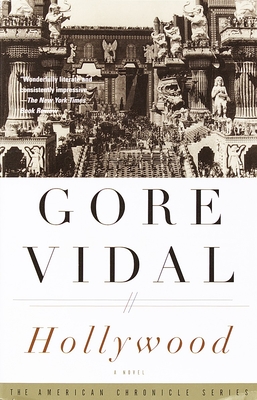 Hollywood (Vintage International) (Paperback)
Vintage, 9780375708756, 448pp.
Publication Date: August 1, 2000
* Individual store prices may vary.
Description
"Wicked and provocative...Vidal's purview of Hollywood in one of its golden ages is fascinating." —Chicago Tribune

In his brilliant and dazzling new novel, Gore Vidal sweeps us into one of the most fascinating periods of American political and social change. The time is 1917. In Washington, President Wilson is about to lead the United States into the Great War. In California, a new industry is born that will transform America: moving pictures. Here is history as only Gore Vidal can re-create it: brimming with intrigue and scandal, peopled by the greats of the silver screen and American politics, from Charlie Chaplin and Douglas Fairbanks to Franklin D. Roosevelt and the author's own grandfather, the blind Senator Gore. With Hollywood, Vidal once again proves himself a superb storyteller and a perceptive chronicler of human nature's endless deceptions.
About the Author
Gore Vidal (1925–2012) was born at the United States Military Academy at West Point. His first novel, Williwaw, written when he was 19 years old and serving in the army, appeared in the spring of 1946. He wrote 23 novels, five plays, many screenplays, short stories, well over 200 essays, and a memoir.
Praise For Hollywood (Vintage International)…
"        Wicked and provocative. . . . Vidal's purview of Hollywood in one of its golden ages is fascinating."
--Tom Tryon

"        Vidal succeeds in making his history alive and plausible."
--The New York Times


"        Vidal's originality derives from his as-
surance that he can create and command the American history of his novels, as much as he can their imaginary components. No other American writer I know of has Vidal's sense of national proprietorship. He summons the entire American scene into his confident voice. Vidal's presump-
tions work marvelously well for his
intentions."
--Richard Poirier,
The New York Review of Books


Also available from the Modern Library:
Burr  ¸  Lincoln  ¸  1876  ¸
Empire  ¸  Washington, D.C.