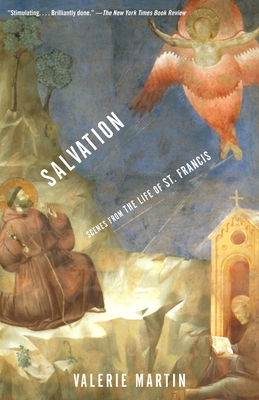 Salvation (Paperback)
Scenes from the Life of St. Francis
Vintage, 9780375708831, 288pp.
Publication Date: March 12, 2002
* Individual store prices may vary.
Description
Inspired by the fresco cycles that depict the life of St. Francis of Assisi, acclaimed author Valerie Martin tells the life of Francesco di Pietro Bernardone in a series of vividly realized "panels" of moments both crucial and ordinary. Drawing from myriad sources and moving in reverse chronological order, she begins in the dark, final days, with a suffering Francesco on the verge of death, then shows us the unwashed and innocent revolutionary, unafraid to lecture a pope on Christ's message. We see his mystical friendship with Chiara di Offreducci, a nobleman's daughter who turns her back on the world to join him, and finally, the frivolous young Francesco on the deserted road where his encounter with a leper leads him to an ecstatic embrace of God. Salvation is at once an illuminating glimpse into the medieval world and an original and intimate portrait of the man whose legend has resonated through the centuries.

About the Author
Valerie Martin is the author of six novels and two collections of short fiction, including Italian Fever and Mary Reilly, and a biography of St. Francis, Salvation. She resides in upstate New York.
Praise For Salvation: Scenes from the Life of St. Francis…
"Elegantly written and strikingly intelligent…. [Martin's] graceful book is very much a work of art." —The New Orleans Times-Picayune

"Voluptuous language and ecstatic imagery." —The Seattle Times

"A biography so vivid and compelling in detail that it reads like a novel." —Fort Worth Star-Telegram

"Valerie Martin has the artistry to render a great life in a series of perfect miniatures." —Cathleen Medwick, author of Teresa of Avila: The Progress of a Soul

"Dazzling…. An inspired work of the imagination, grounded in the truth of a powerful life whose mystery still captivates us." —Patricia Hampl

"Compelling…. The story of a faith that is deep, dedicated and all-encompassing." —The Oregonian

"Salvation is at once Giottoesque and Gothic, terrifying and consoling…. One of those rare books with the grace and power to change your life." —Paul Mariani

"A bold retelling of a familiar, beloved story." —Los Angeles Times

"Stimulating…. Brilliantly done." —The New York Times

"Martin's depiction of Francis through the eyes of his followers is her greatest achievement. Relating their devotion as well as their confusion, she paints a subtle and contradictory portrait of a holy personality-baffling and frustrating, sometimes offensive, but also radiant." —The San Francisco Chronicle

"Martin has a great touch for vivid detail, for landscape settings, for qualities of light and times of day…. An aesthetic St. Francis is one who commands our attention, who draws us irresistibly toward a still point of wonder and self-reflection." —Chicago Tribune
or
Not Currently Available for Direct Purchase