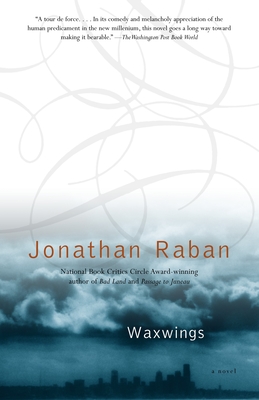 Waxwings (Paperback)
Vintage, 9780375709050, 288pp.
Publication Date: September 28, 2004
* Individual store prices may vary.
Description
Jonathan Raban's powerful novel is set in Seattle in 1999, at the height of its infatuation with the virtual. It's a place that attracts immigrants. One of these is Tom Janeway, a bookish Hungarian-born Englishman who makes his living commenting on American mores on NPR. Another, who calls himself Chick, is a frenetically industrious illegal alien from China who makes his living any way he can.

Through a series of extraordinary but chillingly plausible events, the paths of these newcomers converge. Tom is uprooted from his marriage and must learn to father his endearing eight-year old son part-time. Chick claws his way up from exploited to exploiter. Meanwhile Seattle is troubled by rioting anarchists, vanishing children, and the discovery of an al-Qaeda operative; it is a city on the brink. Savage and tender, visionary and addictively entertaining, Waxwings is a major achievement.
About the Author
The author of ten previous books, Jonathan Raban was born in England and since 1990 has lived in Seattle. His honors include the National Book Critics Circle Award, the Heinemann Award of the Royal Society of Literature, the PEN/West Creative Nonfiction Award, the Pacific Northwest Booksellers' Award, and the Governor's Award of the State of Washington.
Praise For Waxwings…
"A tour de force. . . . In its comedy and melancholy appreciation of the human predicament in the new millenium, this novel goes a long way toward making it bearable." —The Washington Post Book World

"A generous, affirming novel. . . . Terrific." —The New York Times Book Review
"A keenly observant, ironic, yet at heart sympathetic exploration of what America has promised and provided." —Chicago Tribune

"[D]exterously tacks between tragedy and comedy. [Raban's] representations of materialism and the dot.com working environment are dead-on, and his descriptions of the hopes and fears of parents and spouses are heart-rending." —St. Louis Post Dispatch

"Stylishly smooth, descriptively compelling and tragically funny. . . . This is Seattle as Dickens might describe it." —The Seattle Times

"Waxwings . . . is hugely satisfying; buzzing with life from Seattle's dotcom industry, sharpened by domestic intrigue and then alarm as the protagonist's life begins to fall apart." —Independent on Sunday

"The best novel yet about the dot-com era. . . . Raban's snapshots . . . are fall-over funny. [He] nails our short-lived intoxication and hints at the hangover to follow." —Time Out NewYork

"Raban's pages . . . sing with dazzling phrases and fresh insights." —Seattle Post-Intelligencer

"Sharper (and a lot faster) than The Bonfire of the Vanities, [Waxwings] may well be one of the best accounts ever written of an American era." —Kirkus Reviews (starred)

"It's a testament to Raban's control that he can integrate personal and public catastrophes so deftly in this witty novel. . . . He prods us to consider that we're living in a period that makes us all somehow foreigners." —Christian Science Monitor

"Raban's views, ironic and humane, are always acute; always illuminating. His prose - agile, musky, particular - is a treasure." —The Guardian (London)

"Marvelous. . . . As with [Tom] Wolfe's extravaganzas, Waxwings teems with juicy, funny characters emblematic of their time and place . . . but, unlike Wolfe, Raban knows how to bridge the gap between the broad social canvas of satire and the interior life of delicate rounded characters." —Entertainment Weekly

"Waxwings has great amplitude and intelligence . . . a wide-ranging, pungent, sharply observed novel." —Raleigh News Observer

"A delicious social comedy . . . Waxwings is also an elegant meditation on immigrant America." —The Boston Globe

"Generous, funny and beautifully written . . . Waxwings is extraordinarily rich and expertly paced and arranged. The social range of the novel is enormous; the characterizations acute. Every character, however incidental, has a voice." —The Columbus Dispatch

"Raban's specialty is the sly, unsparing metaphor and jarring observation, and he's at the top of his form in Waxwings. Yet he perceives his adopted homeland without American Beauty-style snarkiness or intellectual dispassion à la DeLillo, displaying instead the compassion and bracing honesty of an ambivalent lover." —Village Voice Literary Supplement

"Waxwings stimulates the reader both emotionally and intellectually, gently tapping at the funny bone while giving us characters we care about. . . . It is a solid example of contemporary literature: entertainment with a message about modern society and the modern individual." —The Orlando Sun-Sentinel

"Imagine Evelyn Waugh with a social conscience and, perhaps, a tad more humanity. . . . Enormously pleasing. . . . Wonderful fun, as lively as anything out there." —The Hartford Courant

or
Not Currently Available for Direct Purchase