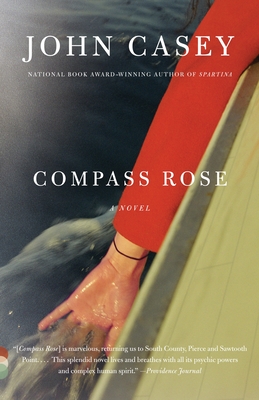 Compass Rose (Vintage Contemporaries) (Paperback)
Vintage, 9780375709135, 400pp.
Publication Date: October 4, 2011
Other Editions of This Title:
Hardcover (10/19/2010)
* Individual store prices may vary.
Description
A Providence Journal Best Book of the Year
A Seattle Times Best Book of the Year 
 
John Casey follows up his National Book Award-winning novel Spartina with an extraordinary return to the marshes of Rhode Island's South County.  
 
Elsie Buttrick, the prodigal daughter of Sawtooth Point, has just given birth to Rose, the child conceived during her passionate affair with Dick Pierce. At first she is wary of the discomfort her presence poses to Dick's wife, May, and other inhabitants of their gossipy, insular community. But as Rose slowly becomes the unofficially adopted daughter and little sister of half the town, she magnetically steers everyone in her orbit toward unexpected—and unbreakable—relationships.
About the Author
John Casey was born in 1939 in Worcester, Massachusetts, and educated at Harvard College, Harvard Law School, and the University of Iowa. His novel Spartina won the National Book Award in 1989. He lives with his wife in Charlottesville, Virginia, where he is a professor of English literature at the University of Virginia.
Praise For Compass Rose (Vintage Contemporaries)…
"[Compass Rose] is marvelous, returning us to South County, Pierce and Sawtooth Point. . . . This splendid novel lives and breathes with all its psychic powers and complex human spirit." —Providence Journal 

"Beautiful, elegiac. . . . Casey's portrayal of . . . South County is carefully observed, lovingly rendered and delicately parsed—a full-throated celebration of the natural world." —The New York Times Book Review 
 
"Casey can write the thoughts, feelings, emotions, hopes and dreams of women, be they wives, mothers, daughters or lovers, better than anyone." —The Seattle Times
 
"Each character in Mr. Casey's large cast is gratifyingly complex, and the novel hums with energy." —The Wall Street Journal
 
"Casey is a brilliant observer. . . . Breathtaking." —San Francisco Chronicle

"An old-fashioned comfort food novel." —Minneapolis Star-Tribune

"Splendid. . . . By the end of the book [readers] may well feel as if they themselves had spent several years living in South County. And many such readers, I predict, will be reluctant to leave." —Troy Jollimore, Los Angeles Times

"John Casey luminously celebrates a young woman who is indeed the compass for her fractured family and community. . . . Rose is a literary rarity—the good and tender-hearted character who is also credible. And Casey has written an affecting story of the way it is—messy, difficult and sometimes radiantly splendid." —The Richmond Times-Dispatch

"Mr. Casey describes the extreme claustrophobia and menace of small town living well. His Rhode Island hamlet is filled with gossip—that's a given—but also the overlapping, intertwining relationships that exist in these kinds of insular communities. . . . Casey is so adept at presenting character. . . . It would be great to see them crewing the Pequod, searching for that ever-elusive whale. Even Moby Dick couldn't sink the likes of these women." —Pittsburgh Post-Gazette

"The genius of novelist John Casey is that he can make the ordinary sublime." —South County Independent
 
"A subtly unusual novel." —The Columbus Dispatch

"The enjoyment of this novel is derived from the unobtrusive skill with which Casey charts the entanglements, convergences, repulsions, and compromises of life in a close-knit community. . . . Casey . . . is marvelously adept at conveying the reflections of an intelligent but not intellectual character such as Elsie. . . . The strongest impression left on the reader, however, is how stubbornly the characters remain themselves even as they are inescapably drawn into each others' lives." —The Boston Globe  

"There is real greatness to John Casey's writing in Compass Rose, which provides a realistic window in to the lives of those who make their living off the Salt Marshes of Rhode Island. There are many lovely, sharp details surrounding the scenery of this estuary, and characters are complicated and fascinating—especially young Rose." —Bookreporter 

 "This is the kind of novel you don't just read—you dwell in—and when you come to the final scenes . . . you hate to see it end." —Hudson Valley News

"Casey wades with aplomb through the imposed intimacies of a small setting and the closed feel of a place where families have lived for generations, and it takes years for outsiders to ever really belong." —The Oregonian


or
Not Currently Available for Direct Purchase