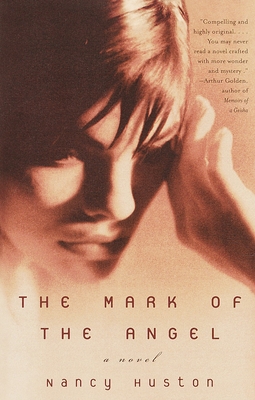 The Mark of the Angel (Paperback)
Vintage Books USA, 9780375709210, 240pp.
Publication Date: August 8, 2000
* Individual store prices may vary.
or
Not Currently Available for Direct Purchase
Description
This novel marks the stuning American debut of an internationally acclaimed writer.  Combining the narrative drive of Birdsong with the emotional resonance of The Reader, The Mark of the Angel is a haunting and unforgettable tale of three lives woven together by longing, fate, and the weight of history.

The year is 1957, and the place is Paris, where the psychic wounds of World War II have barely begun to heal and the Algerian war is about to escalate.  Saffie, an emotionally damaged young German woman, arrives on the doorstep of Raphael, a privileged musician who finds her reserve irresistible.  He hires her, and over the next few days seduces her and convinces her to marry him.  But when Raphael sends Saffie on an errand to the Jewish ghetto, where she meets Andr&aacutes, a Hungarian instrument maker, each of their lives will be altered in startling and unexpected ways.  As Saffie learns to feel again, her long buried memories coupled with the inexorable flow of historical forces beyond anyone's control, create a tableau of epic tragedy.  The Mark of the Angel is a mesmerizing novel of love, betrayal, and the ironies of history.
Praise For The Mark of the Angel…
"You may never read a novel crafted with more wonder and mystery than Nancy Huston's The Mark of the Angel.  At once compelling and highly original, it probes not merely the characters' hearts and lives but the very nature of storytelling."  -Arthur Golden, author of Memoris of a Geisha

"Huston's language is beautiful, with startling juxtapositions of imagery.... Huston has made a chilling and beautiful work of art."  -Boston Phoenix

"Describing Nancy Huston's wonderfully provocative and enigmatic new novel as a tale of adultery in the dreary and uncertain Paris of 1957-1963 is to suggest that The Scarlet Letter is about infidelity and Moby Dick about whaling.... This is a superbly readable story spun with perfect ease and balance."  -The Providence Journal

"The writing style is almost tactile, like a dressmaker caressing a fine peice of silk or satin the better to show it off.  Huston has a sensitive yet sure-handed grasp of her craft."  -Washington Times

"A brilliant, powerfully written novel."  -Rocky Mountain News

"At once [a] love story, war tale and psychological thriller....An engaging, intelligent novel."  -The Plain Dealer
Advertisement