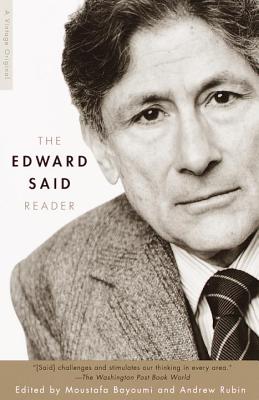 The Edward Said Reader (Paperback)
Vintage, 9780375709364, 512pp.
Publication Date: September 12, 2000
Description
Edward Said, the renowned literary and cultural critic and passionately engaged intellectual, is one of our era's most formidable, provocative, and important thinkers.For more than three decades his books, which include Culture and Imperialism, Peace and Its Discontents, and the seminal study Orientalism, have influenced not only our worldview but the very terms of public discourse.
The Edward Said Reader includes key sections from all of Said's books, from the groundbreaking 1966 study of Joseph Conrad to his new memoir, Out of Place. Whether he is writing of Zionism or Palestinian self-determination, Jane Austen or Yeats, music or the media, Said's uncompromising intelligence casts urgent light on every subject he undertakes. The Edward Said Reader will prove a joy to the general reader and an indispensable resource for scholars of politics, history, literature, and cultural studies: in short, of all those fields that his work has influenced and, in some cases, transformed.
About the Author
Edward W. Said was born in 1935 in Jerusalem, raised in Jerusalem and Cairo, and educated in the United States, where he attended Princeton (B.A. 1957) and Harvard (M.A. 1960; Ph.D. 1964). In 1963, he began teaching at Columbia University, where he was University Professor of English and Comparative Literature. He died in 2003 in New York City. He is the author of twenty-two books which have been translated into 35 languages, including Orientalism (1978); The Question of Palestine (1979); Covering Islam (1980); The World, the Text, and the Critic (1983);Culture and Imperialism (1993); Peace and Its Discontents: Essays on Palestine and the Middle East Peace Process (1996);and Out of Place: A Memoir (1999). Besides his academic work, he wrote a twice-monthly column for Al-Hayat and Al-Ahram; was a regular contributor to newspapers in Europe, Asia, and the Middle East; and was the music critic for The Nation."
Praise For The Edward Said Reader…
"One of the leading thinkers of the age."--The New York Observer

"Edward Said is the most distingished and cultural critic now writing in America." --Cornel West

"Said is a brilliant and unique amalgam of scholar, aesthete, and political activist...[He] challenges and stimulates our thinking in every area." --Washington Post Book World

"No one studying the relations between the metroploitan West and the decolonizing world can ignore Mr. Said's work." --The New York Times Book Review
Advertisement