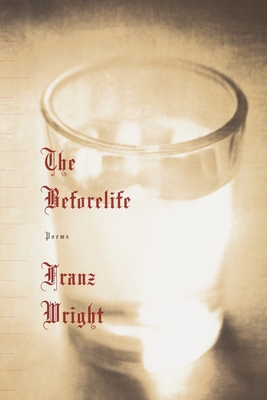 The Beforelife
Paperback

* Individual store prices may vary.
Description
In this stunning collection, Franz Wright chronicles the journey back from a place of isolation and wordlessness. After a period when it seemed certain he would never write poetry again, he speaks with bracing clarity about the twilit world that lies between madness and sanity, addiction and recovery. Wright negotiates the precarious transition from illness to health in a state of skeptical rapture, discovering along the way the exhilaration of love--both divine and human--and finding that even the most battered consciousness can be good company.

Whether he is writing about his regret for the abortion of a child, describing the mechanics of slander ("I can just hear them on the telephone and keening all their kissy little knives"), or composing an ironic ode to himself ("To a Blossoming Nut Case"), Wright's poems are exquisitely precise. Charles Simic has characterized him as a poetic miniaturist, whose "secret ambition is to write an epic on the inside of a matchbook cover." Time and again, Wright turns on a dime in a few brief lines, exposing the dark comedy and poignancy of his heightened perception.

Here is one of the poems from the collection:



Description of Her Eyes

Two teaspoonfuls,
and my mind goes
everyone can kiss my ass now--

then it's changed,
I change my mind.

Eyes so sad, and infinitely kind.
Praise For The Beforelife…
"This luminous, courageous book is about all of us--about our daily torment and redemption, which we dare not speak even to our souls. But Wright has done so."

--Olga Broumas, author of
Rave: Poems, 1975-1999


"These poems break me; they're like jewels shaped by blunt, ruined fingers--miraculous gifts. At any one time only a handful of genuine poets reside on the planet. I consider Franz Wright to be one of these, and I'm grateful that we have him among us."

---Denis Johnson


"Writers who are genuinely original, who beat their own path, make up a kind of visionary company, to which Franz Wright, with this new book, must clearly be admitted. These poems seem haunted by their own dark imaginings, yet at surprising moments turn all of a sudden humorous, if mordantly so. Reading them will train readers to stay alert for whatever devastating surprises may be coming up next."

---Donald Justice


"In a language waking from delirium, these astonishing poems offer---in their spare, raw, and pure lyric clarity---the prayers of madness and the light of its aftermath. Wright is a poet apart in his gifts and his courage."

---Carolyn Forche

"Intriguing and always accessible, with no 'irrelevant / lies,' this book will expand the audience for poetry by showing readers that, in spite of stunning obstacles, it is always 'possible to live.'"
--Library Journal


"In these short meditations of anguish and hope, Wright achieves the clarity of 'seeing,' and a hard-won wisdom as well."--Kirkus Reviews


" 'Beforelife': the word is so striking that the halting suspence of a double-crostic puzzle overhangs the book, as each poem individually withholds final definition. These poems brilliantly duplicate the willfulness and self-spite of the drinker's impulse ... they're mostly miniatures, the beginnings or endings of Hopperesque stories with a European gloss, their diction mixing mid-American colloquial speech and turns that evoke out-of-context translations."--Elizabeth Macklin, The New York Times Book Review
Knopf, 9780375709432, 96pp.
Publication Date: April 2, 2002
About the Author
Franz Wright, the son of the poet James Wright, was born in Vienna in 1953 and grew up in the Northwest, the Midwest, and northern California. His most recent works include Ill Lit: Selected & New Poems and an expanded edition of translations entitled The Unknown Rilke. He has been the recipient of two National Endowment for the Arts grants, a Whiting Fellowship, and the PEN/Voelcker Award for Poetry, among other honors. He lives in Waltham, Massachusetts, with his wife, Elizabeth.
or
Not Currently Available for Direct Purchase