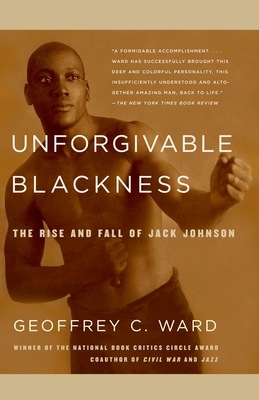 Unforgivable Blackness (Paperback)
The Rise and Fall of Jack Johnson
Vintage, 9780375710049, 544pp.
Publication Date: January 3, 2006
* Individual store prices may vary.
Description
In this vivid biography Geoffrey C. Ward brings back to life the most celebrated — and the most reviled — African American of his age.

Jack Johnson battled his way out of obscurity and poverty in the Jim Crow South to win the title of heavyweight champion of the world. At a time when whites ran everything in America, he took orders from no one and resolved to live as if color did not exist. While most blacks struggled simply to exist, he reveled in his riches and his fame, sleeping with whomever he pleased, to the consternation and anger of much of white America. Because he did so the federal government set out to destroy him, and he was forced to endure prison and seven years of exile. This definitive biography portrays Jack Johnson as he really was--a battler against the bigotry of his era and the embodiment of American individualism.
About the Author
Geoffrey C. Ward won the National Book Critics Circle Award in 1989. With Ken Burns, he is coauthor of The Civil War and Jazz. He lives in New York City.


From the Hardcover edition.
Praise For Unforgivable Blackness: The Rise and Fall of Jack Johnson…
"Unforgivable Blackness is likely to be the definitive biography of Jack Johnson . . . A significant achievement. Geoffrey Ward provides an utterly convincing and frequently heartrending portrait of Jack Johnson." --Joyce Carol Oates, The New York Review of Books

"A formidable accomplishment . . . Ward has successfully brought this deep and colorful personality, this insufficiently understood and altogether amazing man, back to life." --David Margolick, The New York Times Book Review

"Brings [Johnson] to life in all his vulgar, splendid glory. Engrossing and definitive, Unforgivable Blackness is a great biography of a great and utterly fascinating subject." --Allen Barra, The Philadelphia Inquirer

"An engaging and well-researched popular biography . . . Throughout the book, Johnson's energy never flags, and neither does our interest. [Ward] has drawn a portrait of a fascinating figure, whose oversized personality fills every page." --Bruce Schoenfeld, Washington Post Book World


"This remarkable book is at one and the same time a rousing story, a terrific biography, and first-rate history. With immense skill, Geoffrey Ward has not only brought Jack Johnson back to life but has provided a telling window onto what it was like to be a great black athlete in early-twentieth-century America." —Doris Kearns Goodwin

"Geoffrey Ward's Unforgivable Blackness is a stunning exploration in the unbelievable bigotry of whites in early-twentieth-century America." —David Levering Lewis, Pulitzer Prize–winning author of the two-volume biography of W. E. B. Du Bois
 


From the Hardcover edition.