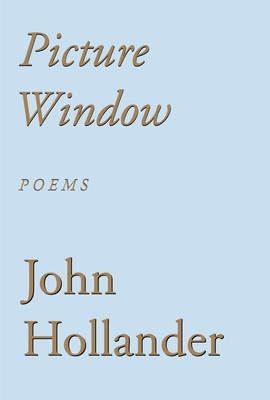 Picture Window: Poems (Paperback)
Poems
Knopf Publishing Group, 9780375710131, 96pp.
Publication Date: January 25, 2005
* Individual store prices may vary.
or
Not Currently Available for Direct Purchase
Description
In this deeply philosophical and highly inventive new collection, John Hollander, the distinguished author of numerous books of poetry, offers profound yet playful meditations on the reflective mind and on the words with which we come to know the world. In forms as varied as sonnets, songs, and ancient odes, he muses over the ways we use (and misuse) language as we grasp the world by ear, by heart, by head / And keep it in a soft continuingness.
Here, too, are striking verses about the passage of time as recorded by the movement of light and shadow across a surface, whether it be the face of a clock or the enclosed walls of a Hopper painting. Throughout, Hollander delights us with mirrors, palindromes, and strange and surprising reversals that keep the mind ever alert with the challenge to make words be themselves, taking time out / From all the daily work of meaning, to / Make picture puzzles of what they re about.
Donna Seaman has written of John Hollander, His wise and robustly complex poems span the mind like stone aqueducts or canyon-crossing railroad bridges awesome works of knowledge and craft, art and devotion. In this exciting new volume, Hollander shows once again the reach of his poetic imagination.
"From the Hardcover edition.
About the Author
JOHN HOLLANDERis the author of more than a dozen books of poetry. His first, "A Crackling of Thorns," was chosen by W. H. Auden as the 1958 volume in the Yale Series of Younger Poets. He wrote eight books of criticism, including the award-winning"Rhyme s Reason: A Guide to English Verse"and"The Work of Poetry, "and edited or coedited twenty-two collections, among them"The Oxford Anthology of English Literature, American Poetry: The Nineteenth Century, "and (with Anthony Hecht, with whom he shared the Bollingen Prize in Poetry in 1983)"Jiggery-Pokery: A Compendium of Double Dactyls."

Mr. Hollander attended Columbia and Indiana Universities and was aJunior Fellow of the Society of Fellows of Harvard University. He taught at Connecticut College and Yale, and was a professor of English at Hunter College and the Graduate Center, CUNY. In 1990 he received a MacArthur Fellowship. He died in August 2013. "From the Hardcover edition.""
Advertisement