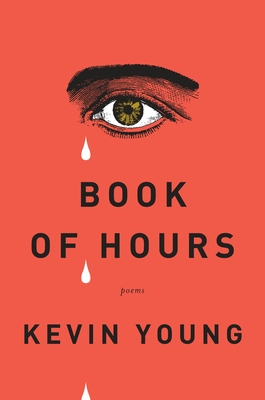 Book of Hours
Poems
Paperback

* Individual store prices may vary.
Description
A decade after the sudden and tragic loss of his father, we witness the unfolding of grief. "In the night I brush / my teeth with a razor," he tells us, in one of the collection's piercing two-line poems. Capturing the strange silence of bereavement ("Not the storm / but the calm / that slays me"), Kevin Young acknowledges, even celebrates, life's passages, his loss transformed and tempered in a sequence about the birth of his son: in "Crowning," he delivers what is surely one of the most powerful birth poems written by a man, describing "her face / full of fire, then groaning your face / out like a flower, blood-bloom,/ crocused into air." Ending this book of both birth and grief, the gorgeous title sequence brings acceptance, asking "What good/are wishes if they aren't / used up?" while understanding "How to listen / to what's gone." Young's frank music speaks directly to the reader in these elemental poems, reminding us that the right words can both comfort us and enlarge our understanding of life's mysteries.
Praise For Book of Hours: Poems…
"If you read no other book of poetry this year, this should be the one." —The Atlanta Journal-Constitution

"An impressively musical exploration of grief and endurance. . . . Young wrestles with loss and joy with enviable beauty and subtlety." —Publishers Weekly

"Young's tone is always pitch-perfect in these poems." —Los Angeles Times

"In Young's poems, loss is built into beauty, and while (for the most part) we take turns experiencing them, they never seem truly separate. As such, many of his poems are both sad and sweet, solemn and celebratory, reading like tender eulogies for whatever a father's future can hold." —The Boston Globe 

"I've read plenty of books about grief and about coming through grief in my life, but I've never before encountered a book that gets it as right as Kevin Young's Book of Hours. It's one of those rare reading experiences that I recognized, even as I read it, as a book I was going to buy over and over again, to give as a gift to friends who've had that certain hole cut out of them, the loss that you can recognize from a distance, even in the happiest of times." —The Stranger
Knopf, 9780375711886, 208pp.
Publication Date: October 13, 2015
About the Author
Kevin Young is the author of seven previous books of poetry, including Ardency: A Chronicle of the Amistad Rebels, winner of a 2012 American Book Award, and Jelly Roll, a finalist for the National Book Award. He is also the editor of eight other collections, most recently The Hungry Ear: Poems of Food & Drink. Young's book The Grey Album: On the Blackness of Blackness, won the Graywolf Nonfiction Prize, was a New York Times Notable Book and a finalist for the National Book Critics Circle Award for criticism, and won a PEN Open Book Award. He is currently the Atticus Haygood Professor of Creative Writing and English, curator of Literary Collections and curator of the Raymond Danowski Poetry Library at Emory University.