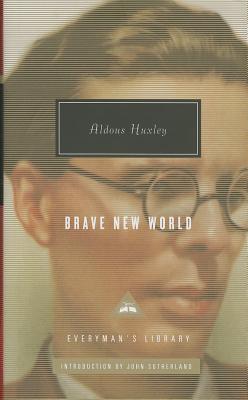 Brave New World (Everyman's Library Contemporary Classics Series)
Hardcover

* Individual store prices may vary.
Other Editions of This Title:
Digital Audiobook (1/15/2008)
Paperback (10/17/2006)
Paperback (1/1/2020)
Paperback (1/19/2010)
Prebound (10/17/2006)
Prebound (10/17/2006)
Hardcover, Chinese (10/29/2014)
Paperback, Large Print (7/1/2005)
Paperback (11/16/2010)
Paperback (5/30/2001)
Hardcover (8/26/2002)
Paperback, Chinese (6/11/2014)
Paperback (9/1/1998)
Paperback (9/3/2013)
Paperback (6/13/2015)
Library Binding (12/1/1976)
Paperback, Japanese (12/1/1986)
Description
Now a television series by the creators of The Walking Dead!

Ranked one of the 100 best English-language novels of the 20th century, this dystopian satire is a brilliant and terrifying vision of a soulless society—and of one man who discovers the human costs of mindless conformity.

Hundreds of years in the future, the World Controllers have created an ideal civilization. Its members, shaped by genetic engineering and behavioral conditioning, are productive and content in roles they have been assigned at conception. Government-sanctioned drugs and recreational sex ensure that everyone is a happy, unquestioning consumer; messy emotions have been anesthetized and private attachments are considered obscene. Only Bernard Marx is discontented, developing an unnatural desire for solitude and a distaste for compulsory promiscuity. When he brings back a young man from one of the few remaining Savage Reservations, where the old unenlightened ways still continue, he unleashes a dramatic clash of cultures that will force him to consider whether freedom, dignity, and individuality are worth suffering for.

Aldous Huxley's ingenious fantasy of a future of mechanical efficiency and engineered harmony has been enormously influential for generations, and is as provocative, powerful, and riveting as when it was first published in 1932.
Praise For Brave New World (Everyman's Library Contemporary Classics Series)…
"A brilliant tour de force . . . Full of barbed wit and malice-spiked frankness . . . Provoking, stimulating, shocking and dazzling." —THE OBSERVER
 
"Ingenious wit, derisive logic and swiftness of expression . . . Huxley's resources of sardonic invention have never been more brilliantly displayed." —THE TIMES (LONDON)
 
"The Utopia to end Utopias." —THE NEW YORK TIMES
 
"An exuberant playground for ideas . . . Brave New World (like Nineteen Eighty-Four) is a novel part of whose instinctive horror is generated by the fact that it foresees a world where novels are no longer possible . . . Brave New World presents itself as a measure of what would be lost in the brave new world of AF 632. No more novels, no more Huxleys. A darker than dark age is coming . . . In the meanwhile Brave New World remains the most readable of grumpy dystopias."
—from the Introduction by John Sutherland
 
 

Everyman's Library, 9780375712364, 280pp.
Publication Date: September 24, 2013
About the Author
ALDOUS HUXLEY, born in 1894, wrote some of the most famous and enduring books of the twentieth century. His works include the classic novels Brave New World, Island, Eyeless in Gaza, and The Genius and the Goddess, as well as the nonfiction volumes The Devils of Loudun, The Doors of Perception, and The Perennial Philosophy. He died in Los Angeles in 1963.

About the Introducer: JOHN SUTHERLAND is the author of seventeen books on literature and language, a regular columnist for The Guardian, and an emeritus professor at University College, London.
or
Not Currently Available for Direct Purchase