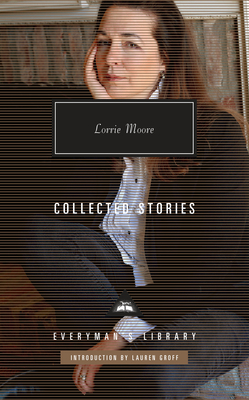 Collected Stories (Everyman's Library Contemporary Classics Series)
Hardcover

* Individual store prices may vary.
Description
A beautiful hardcover edition of the collected stories of one of America's most revered and admired authors.

BBC Culture's Best Books of the Year
Kirkus Reviews Best Books of the Year, Best Short Fiction 

Collected here for the first time in one volume are forty stories by Lorrie Moore—originally published in the acclaimed collections Self-Help, Like Life, Birds of America, and Bark and including three additional stories excerpted from her novels.

Moore is one of America's most revered writers, and this career-spanning collection showcases her exceptional talent for leavening tragedy with humor, for blending sorrow with subversive wit. Her keenly observed stories are peopled by a variety of lost souls—husbands, wives, lovers, tourists, professors, students, even a ghost—who are often grappling with pain or disappointment: a divorced man obsessed with self-help books, a washed-up Hollywood actress living in a hotel, a woman with a terminal illness.

But however lovelorn or dislocated the characters—from the wisecracking wedding guest in "Thank You for Having Me" to the self-deluded musicians in "Wings" to the complicated parent-child pairs in "How to Talk to Your Mother (Notes)" and "The Kid's Guide to Divorce"—their stories are always grounded in insight and compassion. Moore's portraits of the parents of a seriously ill child in "People Like That Are the Only People Here" and of a woman haunted by guilt over the death of her friend's baby in "Terrific Mother" achieve a notably unsentimental and yet quietly devastating power.

Whether moving or darkly funny, all of these pieces channel the messiness of the human condition through Moore's characteristically knowing, wry voice, and together they confirm her as a master of the short story.
Praise For Collected Stories (Everyman's Library Contemporary Classics Series)…
"To read Moore's stories is to feel the ecstatic, terrifying lightning zot of being alive." —LIT HUB
"Moore's writing contains multitudes . . . There really is no one quite like her." —THE NEW REPUBLIC
 
"Superb . . . Moore is a short story superstar, a wily wordsmith, an extraordinary empath. In a few short pages—sometimes in just a few words—she is able to evoke essentially everything about the characters she conjures . . . vast yet intimate . . . Moore's stories have a way of burrowing into the head and the heart and taking up residence there, reverberating like a startled laugh or a stifled sob. This expansive, exquisite collection cements Moore's standing as one of the greatest short story writers of our time." —KIRKUS (starred review)

"Extraordinary . . . Moore's construction of a sentence, a paragraph, a page, is rarely less than exhilarating . . . There is a moral nobility to Moore's assertion that even the least brilliant of lives deserve to be brilliantly documented . . . Moore does not make us feel better; she hurts us. But she hurts us in vital, generous ways, and it is testament to the brilliance of her writing that we let her." —THE TIMES LITERARY SUPPLEMENT
  
 "One of the finest short story writers in the country." —LOS ANGELES REVIEW OF BOOKS
 
"Lorrie Moore's writing is strange and wonderful. It should be among anyone's top reasons for being alive." —POPMATTERS
 
"Here is why one reads Moore: the terse, true polish of her emotional wisdom."  —THE BOSTON GLOBE 
 
"Her stories, her stories, are perfect." —SLATE
 
"The sharpness, clarity, and wit of Moore's voice was evident from the very beginning of her writing life . . . How lucky we are that we have Lorrie Moore's voice to reflect this lunatic world back to us and show us how to see it in all its devastating hilarity." —from the Introduction by Lauren Groff
Everyman's Library, 9780375712388, 776pp.
Publication Date: March 3, 2020
About the Author
LORRIE MOORE is the Gertrude Conaway Vanderbilt Professor of English at Vanderbilt University. She is the recipient of the Irish Times International Prize for Literature, a Lannan Foundation fellowship, as well as the PEN/Malamud Award and the Rea Award for her achievement in the short story. She has been the recipient of the Mary McCarthy Award from Bard College. She lives in Nashville, Tennessee, where she teaches at Vanderbilt University.

LAUREN GROFF is the author of The Monsters of Templeton, Arcadia, Delicate Edible Birds, Fates and Furies, and Florida. She has won the PEN/O. Henry Award, has been a finalist for the National Book Award and the National Book Critics Circle Award, and was named one of Granta's 2017 Best Young American Novelists.