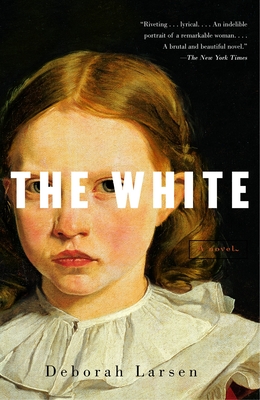 The White (Paperback)
Vintage, 9780375712890, 240pp.
Publication Date: September 9, 2003
* Individual store prices may vary.
Description
In 1758, when Mary Jemison is about sixteen, a Shawnee raiding party captures her Irish family near Gettysburg, Pennsylvania. Mary is the only one not killed and scalped. She is instead given to two Seneca sisters to replace their brother who was killed by whites. Emerging slowly from shock, Mary--now named Two-Falling-Voices--begins to make her home in Seneca culture and the wild landscape. She goes on to marry a Delaware, then a Seneca, and, though she contemplates it several times, never rejoins white society. Larsen alludes beautifully to the way Mary apprehends the brutality of both the white colonists and the native tribes; and how, open-eyed and independent, she thrives as a genuine American.
About the Author
Deborah Larsen grew up in St. Paul, Minnesota, and currently lives with her husband in Gettysburg, Pennsylvania. Her collection of poetry, Stitching Porcelain, was published in 1991, and her poems and short stories have appeared in The Nation, The Yale Review, The Quarterly, Oxford Magazine, and The New Yorker, among other publications. She has been a Wallace Stegner Fellow at Yale. She teaches creative writing at Gettysburg College, where she holds the Merle S. Boyer Chair.
Praise For The White…
"[R]iveting . . .lyrical. . . . [A]n indelible portrait of a remarkable woman. . . . [A] brutal and beautiful novel." –New York Times

"[B] oth a stirring adventure tale. . .and a lyrical meditation on one woman's coming of age. . . .Larsen's perfect prose captures both the brutality and unexpected beauty of Mary's life. . . . For all its frontier romance . . . a stubbornly unvarnished tale."— Los Angeles Times Book Review

"Hypnotic . . . rich and rewarding. . . . Other writers have tried this before, but [none] so gracefully and at the same time so forcefully. Here is the old world of the New World, both a dream and our shared history, for our reading pleasure and our thoughtful consideration of what we all have lost and gained." — San Francisco Chronicle

"[A] lyrical excursion on a deep historical sea....Beneath the smooth beauty of its descriptive language, there is...terrific concision and lightness." –The New York Times Book Review

"[C]urious and fascinating . . . a saga of hardship and casual tragedy with brilliant moments of joy."--The Washington Post Book World

"Illuminated by a wonderful sense of detail and natural rhythm, of landscape, body, and the shifts and changes of time."–Minneapolis Star Tribune

"There is a wealth of life in this spare novel. At times the short sentences and spare language can feel light and ephemeral, but the weight of the writing is hidden in such brevity. The shards of images sink in to wash to the surface long after the last page is read."–The Oregonian

"An accomplished first novel. . .Larsen handles. . .complex emotions and her dueling desires with sublety, and her elegant prose vividly brings Mary's world and thoughts to life."–Booklist

"A brave. . .stark, snowdeep novel."–Austin-American Statesman

"Being American is to wear a coat of many colors. . .Larsen's novel is an instructive, winning reminder that the coat was once woven from broadcloth and buckskin, feathers and silk, in a fabric as hard to unravel as it is to deny."–Daily News

or
Not Currently Available for Direct Purchase