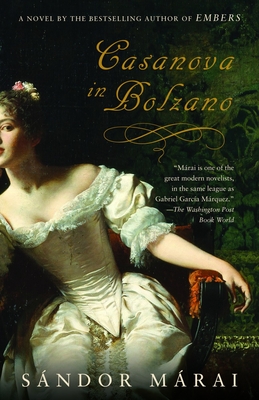 Casanova in Bolzano (Vintage International) (Paperback)
Vintage, 9780375712968, 294pp.
Publication Date: November 8, 2005
* Individual store prices may vary.
Description
Another rediscovered masterpiece from the Hungarian novelist whose Embers became an international bestseller--a sensuous, suspenseful, aphoristic novel about the world's most notorious seducer and the encounter that changes him forever. In 1756 Giacomo Casanova escapes from a Venetian prison and resurfaces in the Italian village of Bolzano. Here he receives an unwelcome visitor: the aging but still fearsome Duke of Parma, who years before had defeated Casanova in a duel over a ravishing girl named Francesca and spared his life on condition that he never see her again. Now the duke has taken Francesca as his wife--and intercepted a love letter from her to his old rival. Rather than kill Casanova on the spot, he makes him a startling offer, one that is logical, perverse, and irresistible. Turning an historical episode into a dazzling fictional exploration of the clasp of desire and death, Casanova in Bolzano is further proof that S ndor M rai is one of the most distinctive voices of the twentieth century.
About the Author
Sándor Márai was born in Kassa, in the Austro-Hungarian Empire, in 1900, and died in San Diego, California, in 1989. He rose to fame as one of the leading literary novelists in Hungary in the 1930s. Profoundly antifascist, he survived the war, but persecution by the Communists drove him from the country in 1948, first to Italy, then to the United States. His novel Embers was published for the first time in English in 2001. Sándor Márai's Embers is available in Vintage paperback. Translated from the Hungarian by George Szirtes From the Hardcover edition.
Praise For Casanova in Bolzano (Vintage International)…
"Scintillating. . . . An intricate duel of wits. . . . Casanova in Bolzano provides posthumous evidence of Marai's neglected brilliance." –Chicago Tribune

"A novel of philosophical adventure. . . . Suspenseful, ornate, discursive to the verge of synaptic collapse (ours), and witty to the occasional verge of terror. . . . Ingenious."
–The New York Times Book Review