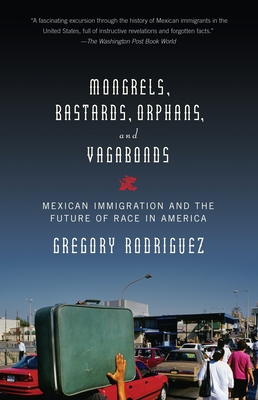 Mongrels, Bastards, Orphans, and Vagabonds: Mexican Immigration and the Future of Race in America (Paperback)
Mexican Immigration and the Future of Race in America
Vintage Books USA, 9780375713200, 317pp.
Publication Date: October 14, 2008
Description
An unprecedented account of the long-term cultural and political influences that Mexican-Americans will have on the collective character of our nation.In considering the largest immigrant group in American history, Gregory Rodriguez examines the complexities of its heritage and of the racial and cultural synthesis--mestizaje--that has defined the Mexican people since the Spanish conquest in the sixteenth century. He persuasively argues that the rapidly expanding Mexican American integration into the mainstream is changing not only how Americans think about race but also how we envision our nation. Brilliantly reasoned, highly thought provoking, and as historically sound as it is anecdotally rich, Mongrels, Bastards, Orphans, and Vagabonds is a major contribution to the discussion of the cultural and political future of the United States.
About the Author
Gregory Rodriguez studied the sociology of the Latinization of California at UCLA. He has been a senior fellow at the New America Foundation, a non-partisan public policy institute in Washington, D.C., a contributing editor to The Los Angeles Times Opinion Section and a political analyst for MSNBC. His work has appeared in many of the nation's leading publications, including The New York Times, The Economist, The Washington Post, The Nation, and The New Republic.
Praise For Mongrels, Bastards, Orphans, and Vagabonds: Mexican Immigration and the Future of Race in America…
"A fascinating excursion through the history of Mexican immigrants in the United States, full of instructive revelations and forgotten facts." —The Washington Post Book World "Brilliant. . . . Politically savvy and enchanting."—Los Angeles Times"Riveting. . . . A thought- provoking account of current-day Mexican Americans and their forefathers."—The San Antonio Express-News"Required reading for anybody interested in the future of the United States. . . . The best available account of the origins, history, ideas, and aspirations of Mexican-Americans."—Foreign Affairs
Advertisement