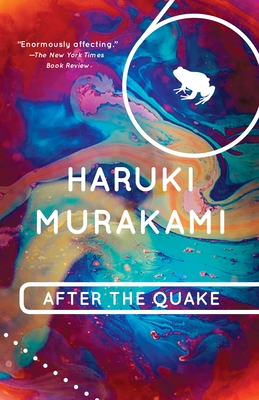 After the Quake (Paperback)
Vintage, 9780375713279, 160pp.
Publication Date: May 13, 2003
Description
The six stories in Haruki Murakami's mesmerizing collection are set at the time of the catastrophic 1995 Kobe earthquake, when Japan became brutally aware of the fragility of its daily existence. But the upheavals that afflict Murakami's characters are even deeper and more mysterious, emanating from a place where the human meets the inhuman. An electronics salesman who has been abruptly deserted by his wife agrees to deliver an enigmatic package--and is rewarded with a glimpse of his true nature. A man who has been raised to view himself as the son of God pursues a stranger who may or may not be his human father. A mild-mannered collection agent receives a visit from a giant talking frog who enlists his help in saving Tokyo from destruction. As haunting as dreams, as potent as oracles, the stories in After the Quake are further proof that Murakami is one of the most visionary writers at work today.
About the Author
Born in Kyoto, Japan, in 1949, Haruki Murakami grew up in Kobe and now lives near Tokyo. The most recent of his many honors is the Yomiuri Literary Prize, whose previous recipients include Yukio Mishima, Kenzaburo Oe, and Kobo Abe. His work has been translated into more than fifty languages. From the Hardcover edition.
Praise For After the Quake…
"Ushers the reader into a hallucinatory world where the real and surreal merge and overlap, where dreams and real-life nightmares are impossible to tell apart." —Michiko Kakutani, The New York Times

"His characters are so persuasive, and the storytelling so spacious. . . . Murakami's crisp, accomplished stories in After the Quake have great immediacy." —The Seattle Times

"One of the great Japanese exports." —Details

"Unexpectedly powerful. . . . Moving." —The New York Times Book Review

"Both mysterious and somehow quite familiar." –Alan Cheuse, San Francisco Chronicle

"In these stories . . . Murakami proves himself to be almost as fantastic–and as heroic–as his creations." –Elle

"Trim, beautiful, diamond sharp, and profoundly layered in . . . mystical symbolism and daily absurdities. Murakami's evocations of grace and possible redemption are startling, dangerous, and moving." –O, The Oprah Magazine

"Haruki Murakami remains one of the most accessible Japanese writers for Western readers." –LA Times

"Spare yet richly mysterious and emotionally prismatic, these unpredictable tales explore the subtle ways the earthquake affected those who live far from its epicenter yet who are nonetheless shaken to their very core. . . .Haunting." –Booklist (starred review)

"Murakami has written a series of deeply evocative stories." –Tulsa Today

"The stories here are well-crafted and lyrical . . . They are sometimes absurd, sometimes quite funny, but they all have real epiphanies and real moments of feeling." –Rocky Mountain News
Advertisement