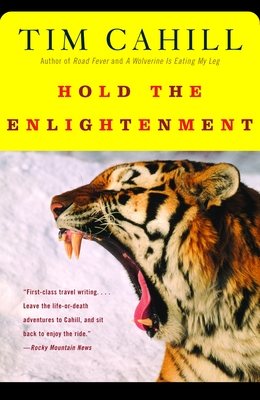 Hold the Enlightenment (Paperback)
Vintage, 9780375713293, 320pp.
Publication Date: September 9, 2003
Description
In his latest collection of death-defying exploits and far-flung travels, Outside Magazine editor Tim Cahill visits the side of an active volcano in Ecuador, the Saharan salt mines and the largest toxic waste dump in the Western Hemisphere. He also ventures to find a Caspian tiger in Turkey and giant centipedes in the Congo. Cahill is one of the last great intrepid journalists, and his thirty wildly entertaining essays display sparkling wit and unstinting curiosity. When not on the move, he debunks hoary notions of the kindness of dolphins and ruminates on religion, death and the perplexing phenomenon of yoga. Charming, incisive and absolutely fearless, Cahill is the perfect travel companion.
About the Author
Tim Cahill is the author of six previous books, including A Wolverine Is Eating My Leg, Jaguars Ripped My Flesh, and Pass the Butterworms. He is an editor at large for Outside magazine, and his work appears in National Geographic Adventure, The New York Times Book Review, and other national publications. He lives in Montana.
Praise For Hold the Enlightenment…
"First-class travel writing. . . . leave the life-or-death adventures to Cahill, and sit back to enjoy the ride." --Rocky Mountain News

"If anything can inspire the most slothful of couch potatoes to get out for an adventure, it is this book." --San Francisco Chronicle

"Long before the unbeaten track got fouled with the TV spoor of earnest Australians soul-kissing vipers, there were people like Tim Cahill who did adventure for real.... His wisecracks bear wisdom, and his self-deprecation reflects a fellow who is likeably confident and thoughtful--a good companion on any journey." --The Wall Street Journal

"Cahill entertains.... the book flashes with luminescence. In trying to make light of enlightenment, he gives moments of hard-won wisdom, along with insights that last longer than any amusement ride." --Los Angeles Times

"Cahill does more than beguile with great storytelling. . . . What Cahill does best–while talking in your ear about the Northern Congo or great white sharks or a yoga retreat in Jamaica–is leave you wanting more. More of his empathy and humor, more of his cheekiness and intelligence." –The Denver Post

"Cahill [writes] with such self-deprecating humor and insight that you're more than happy he enjoys putting himself in harm's way." –The New York Times Books Review

"One of the best things about Hold the Enlightenment is [the author's] unexpected mixture of fact, legend, seriousness and whimsy, often in rapid succession. So [with] Cahill . . . you're always assured of a trip that is anything but ordinary and as far from boring as the great white sharks off South America are from a tuna melt on white toast." –St. Louis Post-Dispatch

"Cahill has done the hard part for us. Now, all we have to do to experience exotic corners of the earth is read Hold the Enlightenment from the comfort of our fluffy sofas. Thanks, Big Guy." –Fort Worth Star-Telegram

"Offers Cahill's usual mix of humor, insight and carefully crafted prose. . . . Highly entertaining and informative." –The Tampa Tribune

"Hold the Enlightenment is vintage Cahill–adventures to thrill the armchair traveler."–The Decatur Daily

"Cahill returns with another collection of perceptive, hilarious and touching travelogues disguised as misadventures. . . . Beyond the grand hilarity and bluster, Cahill is chasing a richer world–and he usually succeeds, or at least limps home with one hell of a story." –Book

"Along with his habitual irreverence, Cahill has a fine appreciation of irony and the absurd. . . . A fine, funny, thoughtful and varied collection." –The Portsmouth Herald


Advertisement