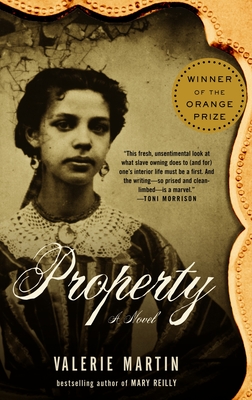 Property (Vintage Contemporaries) (Paperback)
Vintage, 9780375713309, 208pp.
Publication Date: April 13, 2004
Other Editions of This Title:
Hardcover (2/1/2003)
Paperback (4/1/2013)
* Individual store prices may vary.
Description
Valerie Martin's Property delivers an eerily mesmerizing inquiry into slavery's venomous effects on the owner and the owned. The year is 1828, the setting a Louisiana sugar plantation where Manon Gaudet, pretty, bitterly intelligent, and monstrously self-absorbed, seethes under the dominion of her boorish husband. In particular his relationship with her slave Sarah, who is both his victim and his mistress.
Exploring the permutations of Manon's own obsession with Sarah against the backdrop of an impending slave rebellion, Property unfolds with the speed and menace of heat lightning, casting a startling light from the past upon the assumptions we still make about the powerful and powerful.
About the Author
 Valerie Martin is the author of two collections of short fiction and six novels, including Italian Fever, The Great Divorce, and Mary Reilly. Her most recent book is a nonfiction work on St. Francis of Assisi: Salvation: Scenes from the Life of St. Francis. She resides in upstate New York.
Praise For Property (Vintage Contemporaries)…
"This fresh, unsentimental look at what slave-owning does to (and for) one's interior life must be a first. The writing—so prised and clean limbed—is a marvel." —Toni Morrison
"Chilling…disturbing…intriguing. A compelling contest of wills between two women…against a chaotic backdrop of black night and leaping torchlight." —The New York Times
"Sharply observer…. A strikingly unsentimental voice…. In fewer than 200 pages, Martin is able to summon up historical landscapes her readers have never seen." —Newsday
"Quietly devastating…. Shows a dimension of American slavery that nonfiction could not get across…. A work of sustained irony…. As chilly and arresting a picture of slavery as you'll find anywhere." —The Boston Globe
"It is possible that we have never heard a voice like this before… a timeless, chilling voice, eerily like the voice of the German people after the Holocaust… [With it] Valerie Martin opens a window on that evil of human nature that makes one group of people less than another." —Winston-Salem Journal
"So riveting that once you start reading this slender novel, it's unlikely you'll put it down. A bitter, mesmerizing account of the caustic costs of slavery." —Detroit Free Press
"Confirms that Martin is a vibrant force in American fiction… Martin uncovers the violent nature of slavery, ownership and property." —The New Orleans Times-Picayune
"A ferociously honest book [on] a subject long wrapped in 'lies without end': race in America.... Manon is a shadow sister to Scarlett O'Hara, offering [us] the unvarnished voice of her time…. [This is] fiction that can remake the way we understand ourselves." —Salon
"Martin's explorations of character are unsparing as she reveals both Manon and Sarah in all their desperate humanity. A brave and riveting book." —O, The Oprah Magazine
"The real achievement is that Martin leaves us wondering what 'peculiar institutions' we are embracing in our own world." —The News & Observer
"Brilliant… chilling clarity…Property is historical fiction that is both literary and literal in that it poetically bares a truth." —New York Daily News
"Vivid and gripping. I read it in one gulp." —Marilyn French
"Martin's writing is graceful, controlled and precise…The breadth of Martin's interests are remarkable. She moves around flawlessly in time and space: nothing frightens her." —Fay Weldon
"As chilling and satisfying as anything she has written. . . . A fierce and uncompromising book, a bracing and cathartic work of art." —Chicago Tribune
"In this stunningly powerful novel, Valerie Martin's gifts-a fearless originality and seemingly limitless perspective combined with a cool and elegant intelligence-are all on splendid display." —Barbara Gowdy
"A wonderful novel, vivid, revealing." —Carol Shields
"[Property] is a brilliant, chillingly revelatory piece of fiction, a work of craft, economy and such good merciless observation-one of those rare, crucial novels illuminating a history we think we know and understand so that after we've read it we'll never forget its truths." —Ali Smith
"Tightly constructed [and] suspenseful. . . . Manon is a vividly presented voice, precociously cynical, mordantly amusing, despairing. . . . A subtly cadenced novel of racial and sexual transgressions." —The New York Review of Books
"Fraught with tension, desperation, and rage, all masterfully sustained. . . . An unflinching depiction of our nation's most shameful historical chapter." —Los Angeles Times
"Compelling. . . . A painful yet elegant study of . . . the authority of the mighty over the deprived. . . . Astonishing." —The Washington Post
"Quick-paced and absorbing . . . chilling, understated and brilliant." —The Miami Herald
"A fascinating little gem of darkness." —San Francisco Chronicle