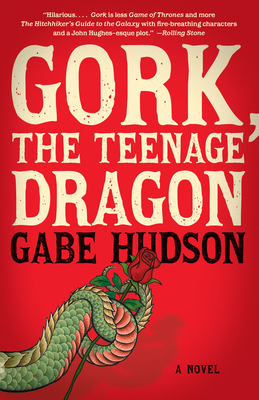 Gork, the Teenage Dragon
A Novel (Vintage Contemporaries)
Paperback

* Individual store prices may vary.
Other Editions of This Title:
Digital Audiobook (7/10/2017)
Description
A TODAY Show Summer Pick
 
"Hilarious. . . . Gork is less Game of Thrones and more The Hitchhiker's Guide to the Galaxy."
—Rolling Stone
 
Gork is the nerdiest dragon at WarWings Military Academy. He has a giant heart and tiny horns. His nickname is Weak Sauce. Today before his high school graduation, he must ask a female dragon to be his queen. The result is a rollicking quest for true love on the most madcap day ever known to a high school senior – dragon or otherwise.

Along the way, Gork gets help from his best friend Fribby, a fierce female robot dragon who is brilliant, snarky, and totally obsessed with death; and Athenos II, his sentient spaceship who carries a shocking secret from his childhood. Ultimately, Gork will have to lock horns with his evil grandfather, Dr. Terrible. Can a quest for true love make a hero out of a dragon?
Praise For Gork, the Teenage Dragon: A Novel (Vintage Contemporaries)…
A TODAY Show Summer Pick

"Outcast cyborg dragons, underworld demons and Gork's mad scientist grandfather, Dr. Terrible, all get involved in a plot as bizarre as a Vonnegut novel."
—Rolling Stone
 
"The fun is in the gonzo, sci-fi fantasy details. . . . Hudson seems to be taking cues from Terry Pratchett's Discworld novels and Douglas Adams' Hitchhiker's Guide to the Galaxy, with perhaps a smattering of Kurt Vonnegut, Joseph Campbell and Mark Twain."
—San Francisco Chronicle
 
"Gork, the Teenage Dragon follows the titular monster about to leave his military school behind. He's always been a misfit: nicknamed "Weak Sauce" by his classmates, he has a small pair of horns and a tendency to faint at inopportune times. Gork plans to ask a female dragon to become his partner, and the stakes are high."
— Los Angeles Times

"Gork, the Teenage Dragon combines so many things I count on in fiction I love—great expansive humor, a big-hearted optimism about all that's possible in the world and in fiction, a very clear moral purpose and a sense of social responsibility—plus a willingness to experiment with the form of writing, to push the art of writing further, and with passion. In the long and august tradition of literary masterpieces about sentient adolescent dragons from outer space, this is no doubt the greatest of the genre. Gabe Hudson has crafted a very sensitive and very funny book from the most serious of subjects: interplanetary acceptance for giant lizards."
—Dave Eggers, author of The Circle

"A dragon version of Ferris Buehler's Day Off. . . . Readers cheer for Gork."
—New York Journal of Books
 
"Charming and wildly imaginative. . . . Gork, who immediately establishes himself as one of the most lovable characters of the year, is an orphaned 16-year-old dragon with a tremendous heart."
—BuzzFeed
 
"Big-hearted and gawky, Gork gives us a lovable loser sure to win the hearts of sci-fi readers and fans of offbeat comedies." 
—Shelf Awareness
 
"Hilarious, satisfyingly fun. . . [as] if John Hughes wrote a Game of Thrones dragon comedy. The story's whimsy and humor keep the plot moving." 
—The Chicago Review of Books
 
"Gork, the Teenage Dragon is jam-packed with outrageous storytelling and soulful humor in the tradition of Kurt Vonnegut. Who knew a dragon's coming-of-age story could be filled with so much humanity? Gabe Hudson may well be the funniest writer working today." 
—Gary Shteyngart, author of Super Sad True Love Story

"A coming-of-age story and a love story….Gork, the Teenage Dragon is like nothing you've read before — a quirky, wildly fun ride of a debut novel about a 16-year old dragon with a big heart."
—BuzzFeed
 
"Gork, the Teenage Dragon is a hilarious ride through the mind-bending and capacious universe, a one-of-a-kind coming-of-age story for the big-hearted and beleaguered. Mostly, it's a reminder that, now especially, we on planet Earth need a whole lot more dreamer-poets, a whole lot more gentle peace-loving fools."  
—Tracy K. Smith, U.S. Poet Laureate, Pulitzer Prize-winning author of Life on Mars and Ordinary Light
 
"In the spirit of Terry Pratchett or Douglas Adams. . . . To be sure, each peer group needs its silly fix, its revenge-of-the-nerds outsider triumph, its conquering dragon-Harry Potter mashup."
—The New York Times
 
"It's hard not to love a story about a dragon with a spaceship that cribs its plot from a John Hughes movie…If it all sounds a bit crazy, it is, in a weird and kind of wonderful way that combines immature humor with a heartfelt coming-of-age story. The hyperkinetic teen-dragon comedy-romance you never knew you wanted."
—Kirkus Reviews


 "Fantasy readers will enjoy this playful romp that pays homage to popular literature and movies. Gork is a dragon version of Andrew Smith's Austin Szerba in Grasshopper Jungle. VERDICT Give to fantasy fans who appreciate dark comedies, dorky dragons, or feel-good first romances."
—School Library Journal
 
"If you are in need of a charming, funny, just very good read right now, may I suggest Gork, the The Teenage Dragon by Gabe Hudson? It's helping."
—Erika Swyler, author of The Book of Speculation
 
"Gork possesses the madcap invention and strange genius of Alice in Wonderland."
—The Paris Review Daily
 
"Like some of its unforgettable inhabitants, Gork, the Teenage Dragon is a cyborg: a fusion of whiz-bang sci-fi with earthy, bawdy, heartfelt fantasy. Gabe Hudson's imagination never quits."
—Chandler Klang Smith, author of The Sky Is Yours
 
"Cleverly plotted and executed. . . . Gork's amusing growing-up story unfolds in vignettes of encounters with various kooky fellow dragons. Throughout, Hudson makes generally witty and occasionally brilliant reflections on humans' often reptilian behavior."
—Publishers Weekly

 "Gork's got it going on. His secret weapon? Poetry! This wonderful, big-hearted, crazy novel is a testament to Gabe Hudson's ingenious imagination." 
—Elizabeth McKenzie, author of The Portable Veblen

"Smart, subversive, funny and fun, Gabe Hudson has created something special—something soaring. It's Catcher in the Rye spiced with Anne McCaffrey, Eragon by way of John Irving, with a whiff of Douglas Adams for good measure.​" 
—The ​Maine Edge​
 
"Gabe Hudson's fire-breathing, page-scorching creation, Gork the dragon, is more human and big-hearted and generous than most people I know. This book is as sly and smart as it is hilarious."
—Ben Marcus, author of The Flame Alphabet


"Genre-bending, age-defying appeal. . . . Gork has one thing going for him: a big, generous heart. Seriously, literary sentimentalists, can you resist?"
—Library Journal
 
"Gork, the Teenage Dragon induced in me such madcap, heartfelt delight and joy, like getting drunk but WITHOUT impaired faculties and PLUS dragons." 
—Alice Sola Kim, 2016 Whiting Award Winner

"Like a mad scramble to find the right date for prom, complete with nerds and jocks—but mainly dragons. Recommend this one to fans of offbeat science fiction and fantasy, such as the Hitchhikers Guide to the Galaxy series."
—Booklist
 
"Gork, the Teenage Dragon is on fire! It's magnificent and exhuberant and ferociously funny, and it's also one of the most moving coming-of-age stories to appear in a long time."
—Paul La Farge, author of The Night Ocean
 
"An epic love story that is wondrous, enchanting, hilarious, and heartrending."
—Akhil Sharma, author of Family Life
 
"An instant dragon tale classic…Resembling the very best John Hughes films, Gork has a memorable group of unique characters."
—Brief Take
Vintage, 9780375713415, 416pp.
Publication Date: June 26, 2018
About the Author
Gabe Hudson is the author of Dear Mr. President, a finalist for the PEN/Hemingway Award and winner of the Sue Kaufman Prize for First Fiction from the American Academy of Arts and Letters. It was one of GQ's Ten Best Books of the Year, The Village Voice's 25 Best Books of the Year, a St. Louis Post-Dispatch Best Book of the Year, and a New York Times New & Notable Paperback. Hudson was named one of Granta's 20 Best of Young American Novelists. He was a recipient of the Hodder Fellowship from Princeton University, the John Hawkes Prize in Fiction from Brown University, and the Adele Steiner Burleson Award in Fiction from the University of Texas at Austin. His writing has appeared in The New Yorker, The New York Times Magazine, BuzzFeed, The Village Voice, McSweeney's, Black Book, and Granta. He was a contributing writer to Six Feet Under: Better Living Through Death, edited by Alan Ball. For many years, he was Editor-at-Large for McSweeney's. He attended The University of Texas and received his MFA from Brown University. Hudson taught in Princeton University's Creative Writing Program and was founding Chair of the Creative Writing Program at Yonsei University in Seoul, Korea. Originally from Austin, he now lives in Brooklyn.
 
Twitter: @gabehudson
Instagram: @gabeghudson
www.gabehudson.com
or
Not Currently Available for Direct Purchase