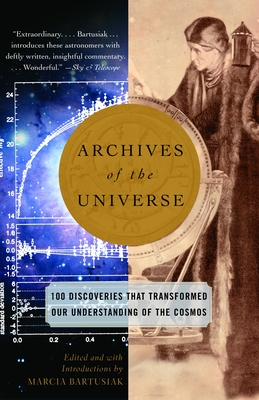 Archives of the Universe: 100 Discoveries That Transformed Our Understanding of the Cosmos (Paperback)
100 Discoveries That Transformed Our Understanding of the Cosmos
Vintage Books USA, 9780375713682, 695pp.
Publication Date: April 11, 2006
Description
An unparalleled history of astronomy presented in the words of the scientists who made the discoveries. Here are the writings of Copernicus, Galileo, Kepler, Newton, Halley, Hubble, and Einstein, as well as that of dozens of others who have significantly contributed to our picture of the universe. From Aristotle's proof that the Earth is round to the 1998 paper that posited an accelerating universe, this book contains 100 entries spanning the history of astronomy. Award-winning science writer Marcia Bartusiak provides enormously entertaining introductions, putting the material in context and explaining its place in the literature. Archives of the Universe is essential reading for professional astronomers, science history buffs, and backyard stargazers alike.
About the Author
Marcia Bartusiak is the author of Thursday's Universe, Through a Universe Darkly, and Einstein's Unfinished Symphony. Her work has appeared in many magazines, including Astronomy, National Geographic, Discover, Science, and Smithsonian. A two-time winner of the American Institute of Physics Science Writing Award, she teaches in the graduate program in science writing at the Massachusetts Institute of Technology and lives in Sudbury, Massachusetts, with her husband.
Praise For Archives of the Universe: 100 Discoveries That Transformed Our Understanding of the Cosmos…
"Extraordinary. . . . A rich archaeological dig. . . . Bartusiak . . .introduces these astronomers with deftly written, insightful commentary. . . . [A] wonderful book."
—Sky & Telescope

"[Bartusiak] provides a helpful road map with her lucid explanatory essays and annotation."
—The New York Times

"Bartusiak has done astronomy a great favor."
—New Scientist

"The reader gets not only a clear and concise history of astronomy . . . in Bartusiak's fine introductions . . . but also excerpts from many of the memorable papers written by the scientists who made the pivotal astronomical discoveries." —Scientific American
Advertisement