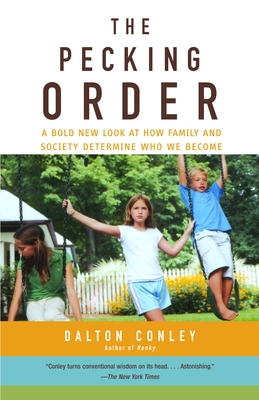 The Pecking Order: A Bold New Look at How Family and Society Determine Who We Become (Paperback)
A Bold New Look at How Family and Society Determine Who We Become
Vintage Books USA, 9780375713811, 309pp.
Publication Date: April 12, 2005
Description
The family is our haven, the place where we all start off on equal footing -- or so we like to think. But if that's the case, why do so many siblings often diverge widely in social status, wealth, and education? In this groundbreaking and meticulously researched book, acclaimed sociologist Dalton Conley shatters our notions of how our childhoods affect us, and why we become who we are. Economic and social inequality among adult siblings is not the exception, Conley asserts, but the norm: over half of all inequality is within families, not between them. And it is each family's own -pecking order- that helps to foster such disparities. Moving beyond traditionally accepted theories such as birth order or genetics to explain family dynamics, Conley instead draws upon three major studies to explore the impact of larger social forces that shape each family and the individuals within it.
From Bill and Roger Clinton to the stories of hundreds of average Americans, here we are introduced to an America where class identity is ever changing and where siblings cannot necessarily follow the same paths. This is a book that will forever alter our idea of family.
About the Author
Dalton Conley is director of the Center for Advanced Social Science Research and professor of sociology and public policy at New York University. He is also adjunct professor of community medicine at Mount Sinai School of Medicine and a research associate at the National Bureau of Economic Research. His essays have appeared in the New York Times, the Los Angeles Times, and Salon, among other publications. His previous books include Honky and Being Black, Living in the Red: Race, Wealth, and Social Policy in America. Conley lives in New York City.
Praise For The Pecking Order: A Bold New Look at How Family and Society Determine Who We Become…
"Lucid and provocative. . . . It will make you think twice about how you became what you are." —The Washington Post Book World

"Don't get too attached to tidy assumptions, such as 'firstborns succeed' and 'elite colleges make the difference.' The Pecking Order is bound to shatter them." —Detroit Free Press

"Conley turns conventional wisdom on its head. . . . Astonishing." —The New York Times

"A profound, controversial and blessedly easy-to-read book that ought to be required reading for armchair experts about families--their own families, and others about whom they gossip." —The Oregonian

"Intriguing and provocative." —Howard Gardner, The Boston Globe

"[Conley] offers a revolutionary new theory -- grounded in facts and statistics -- detailing the complexities of both the familial and the societal sorting process." —Booklist

"Families can be tough. Now there's statistical proof." —O Magazine

"Fascinating…The Pecking Order provides a revealing and well-researched insight into modern American society." —Tulsa World

"Authoritative yet lively... [Conley] chooses stories that get complicated, but he does not compromise the nuances of the statistical research. He keeps his prose simple…The Pecking Order brings an important but technical branch of social science to a new readership." —Michael Hout, Contexts

"An interesting and eminently readable combination of overall trends and individual family histories." —The Providence Journal-Bulletin

"From the first page, this book is engaging because you cannot help but think of your own family predicament." —The Seattle Times

"A fun read with a serious intent…Conley satisfies our thirst for knowing the private lives of the rich and famous while also shedding light on the family lives of anonymous Americans." —Stanley Aronowitz, The Nation

"The Pecking Order is not a conventional parenting book, but it stands as a daunting reminder of the significant roles both parents and sibling play in determining a child's success in the world." —National Post (Canada)

"Reveals a much more fascinatingly shaded world than that of those who choose either nature or nurture." -Kirkus Reviews
Advertisement