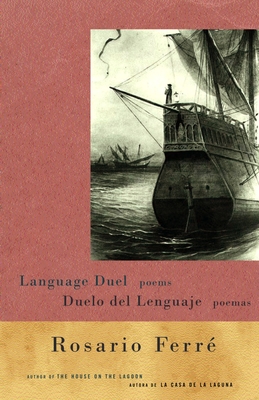 Duelo del Lenguaje = Language Duel (Paperback)
Vintage Books USA, 9780375713842, 192pp.
Publication Date: July 30, 2002
* Individual store prices may vary.
or
Not Currently Available for Direct Purchase
Description
"English and Spanish have been at war since Queen Elisabeth sank King Felipe's Spanish Armada in 1588," Rosario Ferre writes in the title poem of Language Duel; "Language carries with it all their fire and power." Ferre explores this tension throughout this explosive collection, which plays with the sensual differences between the languages and lays bare many of the complications facing an increasingly bilingual America.
In these poems, Miami is celebrated as a modern Tower of Babel and a place where the layers of history are particularly palpable. Wave after wave of conquerors wash across the Americas. A well-dressed Latino businessman inadvertently reveals his roots at the Ritz when someone steps on his foot, eliciting a profanity--in Spanish. Intimate snapshots capture the nameless heroism of homeless men, the exuberance of a child's affection for her hometown, and memories of lovers.
El espanol y el ingles han estado en guerra desde que la Reina Isabel hundio la Armada Invencible en el 1588, escribe Rosario Fere en Duelo del lenguaje, el poema que da t tulo a esta coleccion; los lenguajes llevan con sigo todo su fuego y poderio . Ferre explora las tensiones entre lenguas y culturas a traves de esta coleccion de caracter controversial, que senala muchos de los dilemas a los que se enfrenta hoy una America cada vez mas bilingue.
Estos poemas celebran tanto la antiquisima ciudad San Juan como las metropolis mas modernas: Miami, Nueva York, WDC. Pasado y presente, historia y sociedad se mezclan con una inmediatez sorprendente. Ola tras ola de conquistadores estalla sobre Norte America; un hombre de negocios bien vestido inesperadamente revela sus raices cuando alguien le da un pisoton en el elevador del Ritz y suelta una maldicion. Fotos instantaneas de los deambulantes que se desplazan por las calles de la capital, el carino exuberante que siente un nino por su ciudad natal, los amantes cuya memoria perdura en el recuerdo, el rumor de la lluvia en el patio de atras, que lava el remordimiento: he aqui algunos de los temas a la vez poeticos y cotidianos que se recogen en este libro.
About the Author
A NOTE ABOUT THE AUTHORRosario Ferre is Puerto Rico's leading woman of letters. She has written novels, poetry, short fiction, children's books, biography, and literary criticism in Spanish and English. She received the Liberatur Prix in Germany for Sweet Diamond Dust in 1992, and was a Natoinal Book Award finalsit for The House on the Lagoon in 1995. Her novels have been published in many languages and she translates her own fiction into Spanish. Her most recent novel, Flight of the Swan, was published in 2001. She lives in San Juan, Puerto Rico. A NOTE ABOUT THE CO-TRANSLATORAlan West Duran is a poet, translator, and writer. He won the 1996 Latino Literature Prize fro Poetry with Finding Voices in the Rain. He recently published El tejido de Asterio o las mascaras del logos (2000), a book-length poem, and translated Alejo Carpentier's Music in Cuba (2001)."
Advertisement