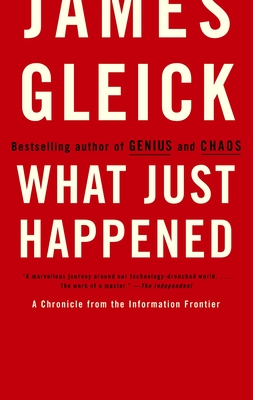 What Just Happened: A Chronicle from the Information Frontier (Paperback)
A Chronicle from the Information Frontier
Vintage, 9780375713910, 320pp.
Publication Date: June 10, 2003
* Individual store prices may vary.
or
Not Currently Available for Direct Purchase
Description
For the past decade change seemed to happen over night, every night. Fueled by the exponential rise of technology, the digital revolution was difficult for many to make sense of, but James Gleick watched and analyzed, criticized and commended, participated in and prophesized about the instantaneous transformations of the world as we knew it.
What Just Happened is a collection of Gleick's articles from this equally exciting and terrifying decade remember Y2K? that range from condemnations of maddeningly pervasive bugs in Microsoft software to the invisible shackles we wear in an Inescapably Connected world. Combining insight and reason with wit and passion, What Just Happened is an essential tour of our technology-driven mania.
About the Author
James Gleick (www.around.com) was born in New York City in 1954. He worked for ten years as an editor and reporter for The New York Times, founded an early Internet portal, the Pipeline, and wrote three previous books: Chaos, Genius, and Faster. His latest book Isaac Newton is available from Pantheon. He lives in the Hudson Valley of New York with his wife.
Praise For What Just Happened: A Chronicle from the Information Frontier…
"A marvellous journey around our technology-drenched world ... The work of a master." –The Independent

"Gleick's a crack investigator who digs for the exceptional facts…. A worthy overview…on the brave new problems we've faced—and will face into the future." –Detroit Free Press

"Invokes nostalgia for a simpler, more innocent time, before we took all this technology for granted." –The Rocky Mountain News

"What Just Happened is a lively time capsule that examines the recent past—one that, not long ago, seemed fairly far-fetched." –Columbus Dispatch

"Gleick is a writer blessed with a techie's mind and insight. . . . As we further immerse ourselves into a plugged-in world, it would be wise to listen to what Glieck had to say back when." —Book Street USA

"Gleick is the king of popular science writing." —Irish Times

"Gleick is one of America's leading exegete of the technological revolution that, like it or not, is taking over all our lives. He spends his at the cutting edge of computer and allied sciences, returning from the front with visions of the future." —The Observer

"Gleick's essays remain pertinent." —The New York Times Book Review

"James Gleick . . . is on the outer reaches of the electronic frontier . . . and [he] has mastered it." —The Roanoke Times

"What Just Happened is a lively time capsule that examines the recent past— one that, not long ago, seemed mostly far-fetched." —The Columbus Dispatch

Advertisement