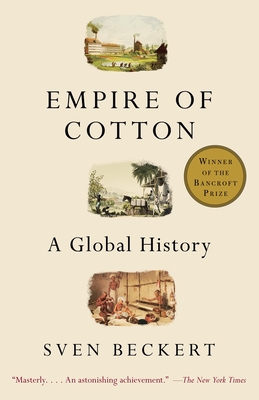 Empire of Cotton
A Global History
Paperback

* Individual store prices may vary.
Other Editions of This Title:
Digital Audiobook (12/1/2014)
Hardcover (12/2/2014)
CD-Audio (12/2/2014)
Compact Disc (12/2/2014)
MP3 CD (12/2/2014)
Description
WINNER OF THE BANCROFT PRIZE

PULITZER PRIZE FINALIST

Winner of the Alfred and Fay Chandler Book Award

The empire of cotton was, from the beginning, a fulcrum of constant global struggle between slaves and planters, merchants and statesmen, workers and factory owners. Sven Beckert makes clear how these forces ushered in the world of modern capitalism, including the vast wealth and disturbing inequalities that are with us today.
        In a remarkably brief period, European entrepreneurs and powerful politicians recast the world's most significant manufacturing industry, combining imperial expansion and slave labor with new machines and wage workers to make and remake global capitalism. The result is a book as unsettling as it is enlightening: a book that brilliantly weaves together the story of cotton with how the present global world came to exist.


Praise For Empire of Cotton: A Global History…
"Masterly. . . . Deeply researched and eminently readable, Empire of Cotton gives new insight into the relentless expansion of global capitalism.  With graceful prose and a clear and compelling argument, Beckert not only charts the expansion of cotton capitalism . . . he addresses the conditions of enslaved workers in the fields and wage workers in the factories.  An astonishing achievement."—Thomas Bender, New York Times
 
"Important  . . .a major work of scholarship that will not be soon surpassed as the definitive account of the product that was, as Beckert puts it, the Industrial Revolution's 'launching pad.'" —Adam Hochschild, New York Times Book Review     
        
"Breathtakingly comprehensive, informative and provocative." —Glenn C. Altschuler, Tulsa World
 
"Persuasive . . . brilliant . . . Beckert's detailed narrative never scants the rich complexity of the cotton trade's impact on many different societies." —Wendy Smith, Boston Globe
  
"Empire of Cotton proves Sven Beckert one of the new elite of genuinely global historians.  Too little present-day academic history is written for the general public. 'Empire of Cotton' transcends this barrier and should be devoured eagerly, not only by scholars and students but also by the intelligent reading public. The book is rich and diverse in the treatment of its subject. The writing is elegant, and the use of both primary and secondary sources is impressive and varied. Overviews on international trends alternate with illuminating, memorable anecdotes. . . . Beckert's book made me wish for a sequel." —Daniel Walker Howe, The Washington Post
 
"Momentous and brilliant . . . Empire of Cotton is among the best nonfiction books of this year." —Karen R. Long, Newsday
 
"Compelling . . . Beckert demonstrates persuasively how the ravenous cotton textile trade in Europe was instrumental in the emergence of capitalism and draws a direct line from the practices that nourished this empire to similar elements in the production of goods for today's massive international retailers. Those who long to know more about how and why slavery took hold in Europe, Africa and the Americas will find this book to be immensely enlightening.  Better still, those who live out the troubled legacy of the exploitation and enslavement of workers in the service of the cotton empire will find in it added inspiration for their continuing efforts to realize a just and more equitable society." —Ruth Simmons, President Emeritus of Brown University
  
"Intellectually ambitious . . . a masterpiece of the historian's craft." —Timothy Shenk, The Nation
 
"A highly detailed, provocative work." —Booklist
 
"Hefty, informative, and engaging . . . Beckert's narrative skills keep the story of capitalism fresh and interesting for all readers." —Publishers Weekly
 
"[Beckert's] close-up study of the cotton economy is a valuable model for the study of capitalism generally, an economic system in which slavery and colonialism were not outliers but instead integral to the whole . . . a valuable contribution." —Kirkus
 
"Fascinating and profound. . . . Global history as it should be written." —Eric Foner
Vintage, 9780375713965, 640pp.
Publication Date: November 10, 2015
About the Author
Sven Beckert is the Laird Bell Professor of American History at Harvard University. Holding a PhD from Columbia University, he has written widely on the economic, social, and political history of capitalism. He has been the recipient of numerous awards and fellowships, including from Harvard Business School, the Dorothy and Lewis B. Cullman Center for Scholars and Writers at the New York Public Library, and the Charles Warren Center for Studies in American History. He was also a fellow of the American Council of Learned Societies and the John Simon Guggenheim Memorial Foundation. He lives in Cambridge, Massachusetts.