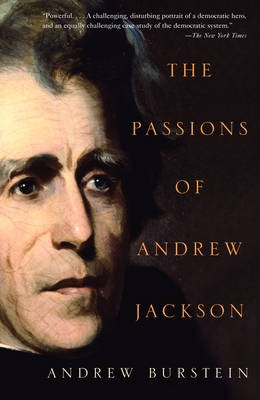 The Passions of Andrew Jackson (Paperback)
Vintage, 9780375714047, 320pp.
Publication Date: April 13, 2004
Description
Most people vaguely imagine Andrew Jackson as a jaunty warrior and a man of the people, but he was much more—a man just as complex and controversial as Jefferson or Lincoln. Now, with the first major reinterpretation of his life in a generation, historian Andrew Burstein brings back Jackson with all his audacity and hot-tempered rhetoric.

The unabashedly aggressive Jackson came of age in the Carolinas during the American Revolution, migrating to Tennessee after he was orphaned at the age of fourteen. Little more than a poorly educated frontier bully when he first opened his public career, he was possessed of a controlling sense of honor that would lead him into more than one duel. As a lover, he fled to Spanish Mississippi with his wife-to-be before she was divorced. Yet when he was declared a national hero upon his stunning victory at the Battle of New Orleans, Jackson suddenly found the presidency within his grasp. How this brash frontiersman took Washington by storm makes a fascinating story, and Burstein tells it thoughtfully and expertly. In the process he reveals why Jackson was so fiercely loved (and fiercely hated) by the American people, and how his presidency came to shape the young country's character.
About the Author
Andrew Burstein is the author of three previous books on American political culture, including America's Jubilee: How in 1826 a Generation Remembered Fifty Years of Independence and The Inner Jefferson. A graduate of Columbia University, he earned his Ph.D. at the University of Virginia. He is currently professor of history and coholder of the Mary Frances Barnard Chair at the University of Tulsa.
Praise For The Passions of Andrew Jackson…
"Powerful. . . . A challenging, disturbing portrait of a democratic hero, and an equally challenging case study of the democratic system." —The New York Times

"Rich in insight into Jackson's personality. . . . Burstein makes fair on his promise to look dispassionately at this most passionate of presidents. . . . A very readable, insightful analysis into the character and evolution of the American republic." —Plain Dealer

"Excellent. . . . A must-read for anyone interested in the presidency or early American history." –Flint Journal

"A useful, persuasively critical account of the development of Jackson's self-image as an honorable patriarch and champion of righteous government.." —The Washington Post Book World

"Impressive. . . . Persuasive. . . . Argues that the times shaped Jackson and thrust him into the White House as the first 'commoner' elected president because he so personified the young nation's bold, brash spirit and sense of destiny." –The Baltimore Sun

"In his ably drawn portrait…[Burstein] studies Jackson from many angles: as the orphan of the American Revolution, the self-taught orator, … and as the lanky husband who loved his stocky wife, Rachel, touchingly and fiercely." –The New York Times Book Review

"Well-researched and well-written.. . . Burstein, with his longstanding interest in the American mind, wants to show how we pick our national heroes." –Chicago Tribune
Advertisement