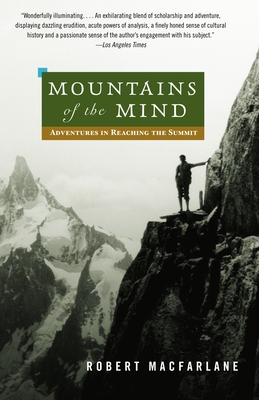 Mountains of the Mind (Paperback)
Adventures in Reaching the Summit (Landscapes)
Vintage, 9780375714061, 324pp.
Publication Date: July 13, 2004
* Individual store prices may vary.
Description
The basis for the new documentary film, Mountain: A Breathtaking Voyage into the Extreme. Combining accounts of legendary mountain ascents with vivid descriptions of his own forays into wild, high landscapes, Robert McFarlane reveals how the mystery of the world's highest places has came to grip the Western imagination--and perennially draws legions of adventurers up the most perilous slopes.
His story begins three centuries ago, when mountains were feared as the forbidding abodes of dragons and other mysterious beasts. In the mid-1700s the attentions of both science and poetry sparked a passion for mountains; Jean-Jacques Rousseau and Lord Byron extolled the sublime experiences to be had on high; and by 1924 the death on Mt Everest of an Englishman named George Mallory came to symbolize the heroic ideals of his day. Macfarlane also reflects on fear, risk, and the shattering beauty of ice and snow, the competition and contemplation of the climb, and the strange alternate reality of high altitude, magically enveloping us in the allure of mountains at every level.
About the Author
Robert Macfarlane is the best-selling author of an award-winning trilogy of books about landscape and the human heart: Mountains of the Mind, The Wild Places, and The Old Ways. He is also the author of Landmarks and Holloway. His work has been translated into a dozen languages and is published in more than twenty countries, and his books have been widely adapted for tv, film and radio by the BBC, among others. He has contributed to Harper's, Granta, the Observer (London), the Times Literary Supplement (London), and the London Review of Books. He was made a Fellow of the Royal Society of Literature in 2012. He is currently a Fellow in English of Emmanuel College, Cambridge.
Praise For Mountains of the Mind: Adventures in Reaching the Summit (Landscapes)…
"Wonderfully illuminating. . . . An exhilarating blend of scholarship and adventure, displaying dazzling erudition, acute powers of analysis, a finely honed sense of cultural history and a passionate sense of the author's engagement with his subject." --Los Angeles Times

"Fascinating stuff. . . a clever premise. . . . Goes back three centuries, showing how a few brainy opinion makers created the outdoor image." —The New York Times Book Review

"A convincing book of historical evidence alongside his own oxygen-deprived experiences in an attempt to answer the age old question, 'Why climb the mountain?' "--San Francisco Chronicle

"Early mountaineers were lost for words to describe the splendor of the mountains, but Robert Macfarlane is not; in particular, he has a gift for arresting similes." –The Times Literary Supplement

"Of all the books published to mark the 50th anniversary of climbing Mount Everest Robert Macfarlane's Mountains of the Mind stands out as by far one of the most intelligent and interesting. . . in a style that shows he can be as poetic as he is plucky."–The Economist

"At once a fascinating work of history and a beautifully written mediation on how memory, imagination, and the landscape of mountains are joined together in our minds and under our feet." –Forbes

"A compelling meditation. . . Macfarlane is. . . the perfect mountain guide through blue crevasse fields, ice walls, prayer flags, Sherpas and Shangri Las. He's been up there, and come back down through the foothills to offer us his thoughtful and gracious elegy, telling us eloquently the secret of it all, which is that no one can ever truly conquer a mountain."–Benedict Allen, author of The Faber Book of Exploration

"Macfarlane, a mountain lover and climber, has a visceral appreciation of mountains. . . . He is an engaging writer, his commentary, always crisp and relevant, leavened by personal experience beautifully related."–The Observer (UK)

"Macfarlane writes with tremendous maturity, elegance and control. . . . A powerful debut, a remarkable blend of passion and scholarship." –Evening Standard (UK)

"Part history, part personal observation, this is a fascinating study of our (sometimes fatal) obsession with height. A brilliant book, beautifully written." –Fergus Fleming, author of Ninety Degrees North: The Quest for the North Pole

"A new kind of exploration writing, perhaps even the birth of a new genre, which doesn't just defy classification–it demands a whole new category of its own."–The Telegraph (UK)

"There are many books on climbing and climbers, and this is one of the best and most unusual I have read."–The Times (UK)

"An imaginative, original essay in cultural history–a book that evokes as well as investigates the fear and wonder of high places." –William Fiennes, author of The Snow Geese

"A crisp historical study of the sensations and emotions people have brought to (and taken from) mountains. . . . Macfarlane intelligently probes the push/pull of the peaks. . . . Sharp and enticing." –Kirkus Reviews