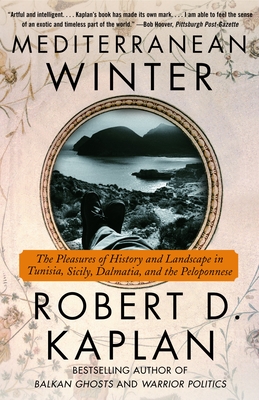 Mediterranean Winter (Paperback)
The Pleasures of History and Landscape in Tunisia, Sicily, Dalmatia, and the Peloponnese (Vintage Departures)
Vintage, 9780375714337, 272pp.
Publication Date: March 8, 2005
* Individual store prices may vary.
Description
"Artful and intelligent . . . . Kaplan's book has made its own mark. . . I am able to feel the sense of an exotic and timeless part of the world."
— Bob Hoover, Pittsburg Post-Gazette

"[Kaplan] helps the distant past resonate today. . . . [He] teaches lessons that are informative and concise." –The Washington Post Book World

"A writer of extraordinary intellect and passion . . . with a wonderfully lucid way of relating history as a living thing." –San Francisco Chronicle

"Erudite and intrepid. . . . [Kaplan] is a deft guide to wherever he chooses to lead you." –The New York Times
About the Author
Robert D. Kaplan is the bestselling author of sixteen books on foreign affairs and travel translated into many languages, including Asia's Cauldron, The Revenge of Geography, Monsoon, The Coming Anarchy, and Balkan Ghosts. He is a senior fellow at the Center for a New American Security and a contributing editor at The Atlantic, where his work has appeared for three decades. He was chief geopolitical analyst at Stratfor, a visiting professor at the United States Naval Academy, and a member of the Pentagon's Defense Policy Board. Foreign Policy magazine has twice named him one of the world's Top 100 Global Thinkers.
Praise For Mediterranean Winter: The Pleasures of History and Landscape in Tunisia, Sicily, Dalmatia, and the Peloponnese (Vintage Departures)…
"Artful and intelligent . . . . Kaplan's book has made its own mark. . . I am able to feel the sense of an exotic and timeless part of the world."
— Bob Hoover, Pittsburg Post-Gazette

"[Kaplan] helps the distant past resonate today. . . . [He] teaches lessons that are informative and concise." –The Washington Post Book World

"A writer of extraordinary intellect and passion . . . with a wonderfully lucid way of relating history as a living thing." –San Francisco Chronicle

"Erudite and intrepid. . . . [Kaplan] is a deft guide to wherever he chooses to lead you." –The New York Times