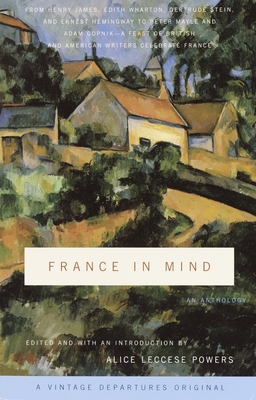 France in Mind: An Anthology: From Henry James, Edith Wharton, Gertrude Stein, and Ernest Hemingway to Peter Mayle and Adam Gopnik--A Feast of Briti (Paperback)
An Anthology: From Henry James, Edith Wharton, Gertrude Stein, and Ernest Hemingway to Peter Mayle and Adam Gopnik--A Feast of Briti
Vintage, 9780375714351, 320pp.
Publication Date: March 11, 2003
Description
In her third literary Baedeker, Alice Leccese Powers editor of Italy in Mind and Ireland in Mind explores France through the senses and sensibilities of thirty-three British and American authors.
The food and the people, the culture and viniculture, the architecture and the expatriates, the pleasures (and frustrations) of France are described by intrepid travelers who also happen to be brilliant essayists, poets, and novelists. From Gertrude Stein's Paris to Ezra Pound's Pyrenees; from Tobias Smollett, who grumbled, to Peter Mayle, who settled in; and from Edith Wharton on falling in love to David Sedaris on falling over French grammar here is France in all its splendor in the words of some of the best and most entertaining writers in the English language.
Henry Adams James Baldwin Elizabeth Bishop Mary Blume James Fenimore Cooper Charles Dickens Lawrence Durrell Lawrence Ferlinghetti M. F. K. Fisher F. Scott Fitzgerald Janet Flanner Adam Gopnik Joanne Harris Ernest Hemingway Washington Irving Henry James Thomas Jefferson Stanley Karnow Peter Mayle Mary McCarthy Jan Morris Ezra Pound David Sedaris Tobias Smollett Gertrude Stein Robert Louis Stevenson Paul Theroux Gillian Tindall Calvin Trillin Mark Twain Edith Wharton Richard Wilbur William Carlos Williams.
About the Author
Alice Leccese Powers is the editor of the anthologies Italy in Mind and Ireland in Mind, and co-editor of The Brooklyn Reader: Thirty Writers Celebrate America s Favorite Borough. A freelance writer and editor, she has been published in The Washington Post, The Baltimore Sun, Newsday, and many other newspapers and magazines. Ms. Powers also teaches writing at the Corcoran School of Art and Georgetown University. She lives in Washington, D.C., with her husband and three daughters."
Advertisement