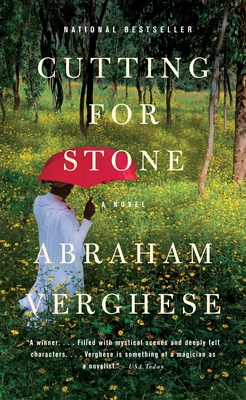 Cutting for Stone (Paperback)
Vintage, 9780375714368, 688pp.
Publication Date: January 26, 2010
Description
Over One Million Copies Sold. National Bestseller. Marion and Shiva Stone are twin brothers born of a secret union between a beautiful Indian nun and a brash British surgeon. Orphaned by their mother's death and their father's disappearance, bound together by a preternatural connection and a shared fascination with medicine, the twins come of age as Ethiopia hovers on the brink of revolution. Moving from Addis Ababa to New York City and back again, Cutting for Stone is an unforgettable story of love and betrayal, medicine and ordinary miracles--and two brothers whose fates are forever intertwined.
About the Author
Abraham Verghese is Professor and Senior Associate Chair for the Theory and Practice of Medicine at the Stanford University School of Medicine. He was the founding director of the Center for Medical Humanities & Ethics at the University of Texas Health Science Center, San Antonio, where he is now an adjunct professor. He is the author of My Own Country, a 1994 NBCC Finalist and a Time Best Book of the Year, and The Tennis Partner, a New York Times Notable Book. A graduate of the Iowa Writers' Workshop, he has published essays and short stories that have appeared in The New Yorker, The New York Times, The Atlantic Monthly, Esquire, Granta, The Wall Street Journal, and elsewhere. He lives in Palo Alto, California.
Praise For Cutting for Stone…
"A winner. . . . Filled with mystical scenes and deeply felt characters. . . . Verghese is something of a magician as a novelist."
—USA Today
 
"A masterpiece. . . . Not a word is wasted in this larger-than-life saga. . . . Verghese expertly weaves the threads of numerous story lines into one cohesive opus. The writing is graceful, the characters compassionate and the story full of nuggets of wisdom."
—San Francisco Chronicle
 
"Lush and exotic. . . . The kind [of novel] Richard Russo or Cormac McCarthy might write. . . . Shows how history and landscape and accidents of birth conspire to create the story of a single life. . . . Verghese creates this story so lovingly that it is actually possible to live within it for the brief time one spends with this book. You may never leave the chair."
—Los Angeles Times
 
"Vivid. . . . Cutting for Stone shines."
—The Washington Post Book World
 
"Absorbing, exhilarating. . . . If you're hungry for an epic . . . open the covers of Cutting for Stone, [then] don't expect to do much else."
—The Seattle Times
 
"Wildly imaginative. . . . Verghese has the rare gift of showing his characters in different lights as the story evolves, from tragedy to comedy to melodrama, with an ending that is part Dickens, part Grey's Anatomy. The novel works as a family saga, but it is also something more, a lovely ode to the medical profession."
—Entertainment Weekly
 
"Engrossing. . . . Endearing. . . . A passionate, vivid, and informative novel."
—The Boston Globe
 
"Here is an extraordinary imagination, artfully shaped and forcefully developed, wholly given in service to a human story that is deeply moving, utterly gripping, and, indeed, unforgettable. . . . As noble and dramatic as that ancient practice—medicine—that lies at the heart of this magnificent novel."
—John Burnham Schwartz
 
"Grand enough for the movies. . . . Fascinating."
—Dallas Morning News
 
"Stupendous. . . . An epic romance, surgery meets history. Beautiful and deeply affecting."
—Simon Schama, Financial Times
 
"Verghese plays straight to the heart in his first novel, which will keep you in its thrall."
—People
 
"A marvel of a first novel. Verghese's generosity of spirit is beautifully embodied in this gripping family saga that brings mid-century Ethiopia to vivid life. The practice of medicine is like a spiritual calling in this book, and the unforgettable people at its center bring passion and nobility—not to mention humor and humility—to the ancient art, while living an unforgettable story of love and betrayal and forgiveness. It's wonderful."
—Ann Packer
 
"Like Chekhov, Verghese is a doctor and is as authoritative about the workings of the human heart as he is of the human body. . . . If comparisons with another writer have to be made, its blend of intensely realized detail, adventure, myth, wit, drama and poetry reminded me of Shakespeare."
—Richard Eyre, The Sunday Telegraph (UK)
 
"Compelling. . . . Readers will put this novel down at book's end knowing that it will stick with them for a long time to come."
—St. Louis Post-Dispatch
 
"The novel is full of compassion and wise vision. . . . I feel I changed forever after reading this book, as if an entire universe had been illuminated for me. It's an astonishing accomplishment to make such a foreign world familiar to a reader by the book's end."
—Sandra Cisneros, San Antonio Express-News
 
"Verghese's first novel is a whopper, illuminating the magic and the tragedy of our lives, brimming with wisdom about the human condition. Such fun to read, too. . . . In Cutting for Stone, we get all we were promised and then some. . . . Like Rushdie, Verghese takes us wholly away to a foreign place, culture and history."
—Newsday
 
"Tremendous. . . . Vivid and thrilling. . . . I feel lucky to have gotten to read it."
—Atul Gawande
 
"The first novel from physician Verghese displays the virtues so evident in his bestselling and much-lauded memoirs. He has a knack for well-structured scenes, a passion for medicine and a gift for communicating that passion."
—Cleveland Plain-Dealer
 
"Fantastic. . . . Written with a lyrical flair, told through a compassionate first-person point of view, and rich with medical insight and information, [Cutting for Stone] makes for a memorable read."
—Houston Chronicle
 
"Vastly entertaining and enlightening."
—Tracy Kidder
 
"Ambitious. . . . Sprawling. . . . A synthesis of the everyday and the extraordinary [written] in a style that could be called ecstatic realism."
—The Oregonian
 
"[An] astonishing, breath-taking and heartrending human epic. . . . A perfectly pitched, endlessly rewarding symphony of a debut novel. If you have time to read only one novel this year, make it this one."
—Newark Star-Ledger
 
"Verghese's achievement is to make the reader feel there really is something at stake—birth, love, death, war, loyalty. . . . You conserve pages because you don't want [the book] to end."
—The Guardian (UK)
 
"Richly entertaining. . . . A narrative that ranges as skillfully through the emotional register as it does across time and space. . . . Cutting for Stone honors the extraordinary, complex work of surgeons and physicians, but it also allows us to see them as ordinary men and women."
—The Sunday Times (London)

"Absolutely fantastic! If Vikram Seth and Oliver Sacks were to collaborate on a four-hour episode of Grey's Anatomy set in Africa, they could only hope to come up with something this moving and entertaining."
—Mark Salzman

"Tremendous, compassionate, technically exuberant. . . . This is a big book and, along with Naipaul and Waugh and Dickens, there is also a strong flavour of William Boyd. . . . We can only stand back awestruck at [Verghese's] energy."
—The Independent (UK)
 
"Breathtaking. . . . A global story about medicine and family relationships that achieves the literary heights of A Thousand Splendid Suns by Khaled Hosseini. . . . A masterful read."
—The Missourian
 
"Gripping. . . . What's most memorable about Cutting for Stone is Verghese's compassionate authorial generosity toward his characters, particularly in his medical scenes. Verghese's doctors never forget that they are operating on human beings. . . . Refreshing."
—Minneapolis Star Tribune
 
"Magical. . . . A big, sweeping family saga. . . . I don't think I've read a novel with this kind of depth and sweep and character and sort of vividness for such a long time."
—Tina Brown, The Daily Beast
 
"A saga about love, medicine, and exile, this debut reads like a modern Odyssey."
—Good Housekeeping
 
"To read the first page of Cutting for Stone is to fall hopelessly under the spell of a masterful storyteller; and to try to close the book thereafter is to tear oneself away from the most vivid of dreams. . . . Verghese has once again set the bar and re-defined great medical literature—great literature period—for the rest of us."
—Pauline W. Chen, author of Final Exam
Abraham Verghese has said that his ambition in writing Cutting for Stone was to "tell a great story, an old-fashioned, truth-telling story." In what ways is Cutting for Stone an old-fashioned story-and what does it share with the great novels of the nineteenth century? What essential human truths does it convey?
What does Cutting for Stone reveal about the emotional lives of doctors? Contrast the attitudes of Hema, Ghosh, Marion, Shiva, and Thomas Stone toward their work. What draws each of them to the practice of medicine? How are they affected, emotionally and otherwise, by the work they do?
Marion observes that in Ethiopia, patients assume that all illnesses are fatal and that death is expected, but in America, news of having a fatal illness "always seemed to come as a surprise, as if we took it for granted that we were immortal" (p. 396). What other important differences does Cutting for Stone reveal about the way illness is viewed and treated in Ethiopia and in the United States? To what extent are these differences reflected in the split between poor hospitals, like the one in the Bronx where Marion works, and rich hospitals like the one in Boston where his father works?
In the novel, Thomas Stone asks, "What treatment in an emergency is administered by ear?" The correct answer is "Words of comfort." How does this moment encapsulate the book's surprising take on medicine? Have your experiences with doctors and hospitals held this to be true? Why or why not? What does Cutting for Stone tell us about the roles of compassion, faith, and hope in medicine?
There are a number of dramatic scenes on operating tables in Cutting for Stone: the twins' births, Thomas Stone amputating his own finger, Ghosh untwisting Colonel Mebratu's volvulus, the liver transplant, etc. How does Verghese use medical detail to create tension and surprise? What do his depictions of dramatic surgeries share with film and television hospital dramas-and yet how are they different?
Marion suffers a series of painful betrayals-by his father, by Shiva, and by Genet. To what degree is he able, by the end of the novel, to forgive them?
To what extent does the story of Thomas Stone's childhood soften Marion's judgment of him? How does Thomas's suffering as a child, the illness of his parents, and his own illness help to explain why he abandons Shiva and Marion at their birth? How should Thomas finally be judged?
In what important ways does Marion come to resemble his father, although he grows up without him? How does Marion grow and change over the course of the novel?
A passionate, unique love affair sets Cutting for Stone in motion, and yet this romance remains a mystery-even to the key players-until the very conclusion of the novel. How does the relationship between Sister Mary Joseph Praise and Thomas Stone affect the lives of Shiva and Marion, Hema and Ghosh, Matron and everyone else at Missing? What do you think Verghese is trying to say about the nature of love and loss?
What do Hema, Matron, Rosina, Sister Mary Joseph Praise, Genet, and Tsige-as well as the many women who come to Missing seeking medical treatment-reveal about what life is like for women in Ethiopia?
Addis Ababa is at once a cosmopolitan city thrumming with life and the center of a dictatorship rife with conflict. How do the influences of Ethiopia's various rulers-England, Italy, Emperor Selassie-reveal themselves in day-to-day life? How does growing up there affect Marion's and Shiva's worldviews?
As Ghosh nears death, Marion comments that the man who raised him had no worries or regrets, that "there was no restitution he needed to make, no moment he failed to seize" (p. 346). What is the key to Ghosh's contentment? What makes him such a good father, doctor, and teacher? What wisdom does he impart to Marion?
Although it's also a play on the surname of the characters, the title Cutting for Stone comes from a line in the Hippocratic Oath: "I will not cut for stone, even for patients in whom the disease is manifest; I will leave this operation to be performed by practitioners, specialists in this art." Verghese has said that this line comes from ancient times, when bladder stones were epidemic and painful: "There were itinerant stone cutters-lithologists-who could cut into either the bladder or the perineum and get the stone out, but because they cleaned the knife by wiping their blood-stiffened surgical aprons, patients usually died of infection the next day." How does this line resonate for the doctors in the novel?
Almost all of the characters in Cutting for Stone are living in some sort of exile, self-imposed or forced, from their home country-Hema and Ghosh from India, Marion from Ethiopia, Thomas from India and then Ethiopia. Verghese is of Indian descent but was born and raised in Ethiopia, went to medical school in India, and has lived and worked in the United States for many years. What do you think this novel says about exile and the immigrant experience? How does exile change these characters, and what do they find themselves missing the most about home?
Coverage from NPR
Advertisement