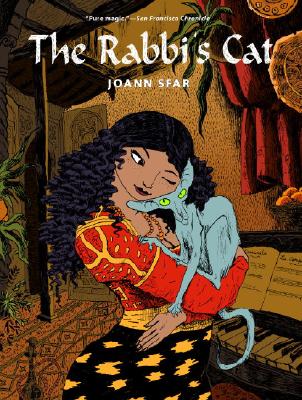 The Rabbi's Cat
Paperback

* Individual store prices may vary.
Other Editions of This Title:
Hardcover (8/16/2005)
Description
The preeminent work by one of France's most celebrated young comics artists, The Rabbi's Cat tells the wholly unique story of a rabbi, his daughter, and their talking cat-a philosopher brimming with scathing humor and surprising tenderness.
In Algeria in the 1930s, a cat belonging to a widowed rabbi and his beautiful daughter, Zlabya, eats the family parrot and gains the ability to speak. To his master's consternation, the cat immediately begins to tell lies (the first being that he didn't eat the parrot). The rabbi vows to educate him in the ways of the Torah, while the cat insists on studying the kabbalah and having a Bar Mitzvah. They consult the rabbi's rabbi, who maintains that a cat can't be Jewish-but the cat, as always, knows better.
Zlabya falls in love with a dashing young rabbi from Paris, and soon master and cat, having overcome their shared self-pity and jealousy, are accompanying the newlyweds to France to meet Zlabya's cosmopolitan in-laws. Full of drama and adventure, their trip invites countless opportunities for the rabbi and his cat to grapple with all the important-and trivial-details of life.
Rich with the colors, textures, and flavors of Algeria's Jewish community, The Rabbi's Cat brings a lost world vibrantly to life-a time and place where Jews and Arabs coexisted-and peoples it with endearing and thoroughly human characters, and one truly unforgettable cat.
Praise For The Rabbi's Cat…
"He draws faster than his shadow. He comes up with new stories as if he were drinking a glass of water. He talks more than anyone I've ever known. He's extremely talented, extremely funny, extremely smart. I guess this is the description of a genius. And I don't say such things because he's my friend. Joann Sfar is not a rabbi, but he describes better than anyone the religious dilemma with tenderness, intelligence, and humor. The Rabbi's Cat is a book that everybody should read."
–Marjane Satrapi, author of Persepolis

"[The Rabbi's Cat] is rich in historic and cultural detail and filled with great stories."
–The Washington Post

"As fanciful as Mark Haddon's The Curious Incident of the Dog in the Night-Time,
a whole lot shorter than The Amazing Adventures of Kavalier & Clay, and a good deal more Jewish than Marjane Satrapi's Persepolis, Joann Sfar's graphic novel is hilarious, poignant, and wise. And now that I'm done reading it for the first time, I'm going to read it again."
–Adam Langer, author of Crossing California

"An affecting, fraught, and–yes–sometimes hilarious tour de force about the complexities of living faithfully in a godless world."
–The Boston Globe

"In The Rabbi's Cat, Joann Sfar's words and pictures mingle in a dance both sacred and skeptical, perfectly graceful and clumsily human. I loved this book and I'm so grateful Sfar's brilliance has finally been brought to America. He is one of the brightest cartoonists in the world!"
–Craig Thompson, author of Blankets
Pantheon Books, 9780375714641, 142pp.
Publication Date: May 22, 2007
About the Author
Considered one of the brightest and most talented of the younger generation of French comics artists, Joann Sfar has written or collaborated on more than one hundred books for adults and children. He has worked with some of the best young artists in France, including Christophe Blain, Emmanuel Guibert, and Lewis Trondheim. In the United States he's best known for his children's books, Little Vampire Goes to School, which made The New York Times best-seller list, and Little Vampire Does Kung Fu!, which was nominated for an Eisner Award. Sfar was awarded the prestigious Jury Prize at Angouleme for The Rabbi's Cat. He lives in Paris with his wife, two children, and the model for the rabbi's cat. Please visit his Web site at www.pastis.org/Joann.
or
Not Currently Available for Direct Purchase